Baked vegetable crisps – use up root or starchy vegetables for a delicious Friday or Saturday night treat.
"I love making a huge bowl of these healthy crisps, which can be prepared with other vegetables as well. I often make them using carrot, daikon radish or pumpkin" says Adele McConnell, author of The Vegan Cookbook. "It's a great way to use up any root or starchy vegetables you have in your vegetable rack."
Adele MacConnell has been blogging on her vegan website, Vegie Head, since 2010, and her recipes have been enjoyed and recreated by tens of thousands of people all over the world. She believes you can change people's perspective on veganism and vegetarianism without scaring them away with statistics, facts or disturbing images, or by listing what they can't do or eat. "Instead, you can show them what they can eat and that eating vegan food is an adventure in taste and ingredients" says Adele.
Baked Chilli Vegetable Crisps Recipe
Serves 2
Preparation Time: 20 minutes
Cooking time: 35 minutes
2 beetroots
1 sweet potato
1 parsnip
1 potato
2 tbsp olive oil or melted coconut oil
½ tsp sea salt
½ tsp garlic powder
½ tsp dried basil
½ tsp dried oregano
½ tsp dried rosemary
2 tsp crushed chillies
1 tsp paprika
1. Preheat the oven to 180°C/350°F/Gas 4. Use a wire rack over a baking tray to cook the crisps – this will ensure they are evenly cooked and crisp up well.
2. Slice all the vegetables into uniformly thin slices, preferably using a mandolin.
3. Put the vegetables in a large bowl and drizzle with the oil. Sprinkle over the flavourings and mix well to cover the slices completely.
4. Arrange the slices on the rack in a single layer and bake for 10–12 minutes until crisp and lightly golden. You may have to do this in batches. Cool and serve. Store vegetable crisps in an airtight container for up to 3 days.
Adele McConnell is the founder of the hugely successful vegan food blog, vegiehead.com, and was the winner of the prestigious 'Vegan Food Blogger Award' by The Vegan Woman 2012. She loves sharing her passion for vegan food. Watch her inspiring, easy-to-follow cookery demonstrations on her YouTube channel.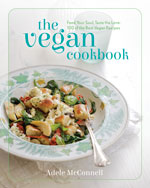 "Feed your soul, taste the love: 100 of the best vegan recipes"
The Vegan Cookbook by Adele McConnell
176 pages • Illustrated • £14.99
AUS $28.00 NZ $35.00
https://nourishbooks.com/wp-content/uploads/2014/01/vegetable-crisps-preview.jpg
300
340
Victoria Lagodinsky
https://nourishbooks.com/wp-content/uploads/2018/04/NourishLogo340x156-300x138-300x138.png
Victoria Lagodinsky
2014-01-31 12:52:44
2014-03-17 12:04:35
Baked Chilli Vegetable Crisps Recipe
Mushroom Wellingtons with Camembert and Membrillo  make a perfect Friday night supper dish
These days, staying in is the new going out, and homemade deli is the way to eat gourmet! Emma Macdonald, a trained chef and founder of The Bay Tree – the UK's premier deli ingredient company – shares her celebrated culinary secrets for the first time in her book The Bay Tree Home Deli Recipes. Try her delicious recipe for a vegetarian wellington – perfect for a Friday night supper.
 "The intensely fruity, ruby-red membrillo, or Spanish quince paste or "cheese", is perfect combined with melting Camembert in these individual baked filo pastry wellingtons. Use a Camembert that is just ripe so that it melts but doesn't run away during baking." suggests Emma.
Mushroom Wellingtons with Camembert and Membrillo
Serves 4
Preparation time 15 minutes
Cooking time 35 minutes
olive oil, for greasing and brushing
4 large portobello or field mushrooms, about 250g/9oz total weight
2×150g/5½oz small Camembert cheeses
4 tbsp membrillo
6 sheets of filo pastry, each about 48x25cm/19x10in
40g/1½oz butter, melted
sea salt and freshly ground black pepper
new potatoes and green salad, to serve
1. Preheat the oven to 190°C/375°F/Gas 5 and lightly oil a large baking tray. Brush both sides of each mushroom with olive oil and put them cap-side down on a plate. Season with salt and pepper. Using a sharp knife, slice the rind off the top and the bottom of the Camembert; you can leave the rind around the sides. Cut each Camembert in half crossways to give 4 pieces.
2. Put a piece of Camembert on top of each mushroom and top with a tablespoonful of the membrillo. Leave to one side.
3. Cut each sheet of filo in half vertically. Place 3 halves of filo on top of one another, brushing each layer with a little melted butter. Keep the remaining filo covered with a damp kitchen towel to prevent it drying out. Sit the stuffed mushroom in the centre and draw up the corners of the filo to meet in the middle and make a parcel. Twist the top of the filo to seal and brush the parcel with more butter. Repeat with the remaining stuffed mushrooms and filo.
4. Place the mushroom wellingtons on the prepared baking tray. Bake for 25–35 minutes until the filo is golden and crisp. Leave to cool slightly to allow the Camembert to firm up before serving with potatoes and salad.
Having grown up on the family's delicious, homemade Cucumber Relish, Emma Macdonald had the simple idea that full-flavored, quality chutneys and preserves needed to be brought to the specialty sector. In The BayTree Home Deli Recipes she reveals all her deli-ingredient making secrets and shows you how to create delicious meals from them.
"These days, staying in is the new going out, and homemade deli is the way to eat gourmet!"
The Bay Tree Home Deli Recipes by Emma Macdonald
224 pages • Illustrated • £20.00
AUS $32.99 NZ $42.00
£20 l Buy the book now! 
https://nourishbooks.com/wp-content/uploads/2014/01/mushroom-wellington-preview.jpg
300
340
Victoria Lagodinsky
https://nourishbooks.com/wp-content/uploads/2018/04/NourishLogo340x156-300x138-300x138.png
Victoria Lagodinsky
2014-01-30 00:00:48
2014-02-24 16:10:30
Mushroom Wellingtons with Camembert and Membrillo