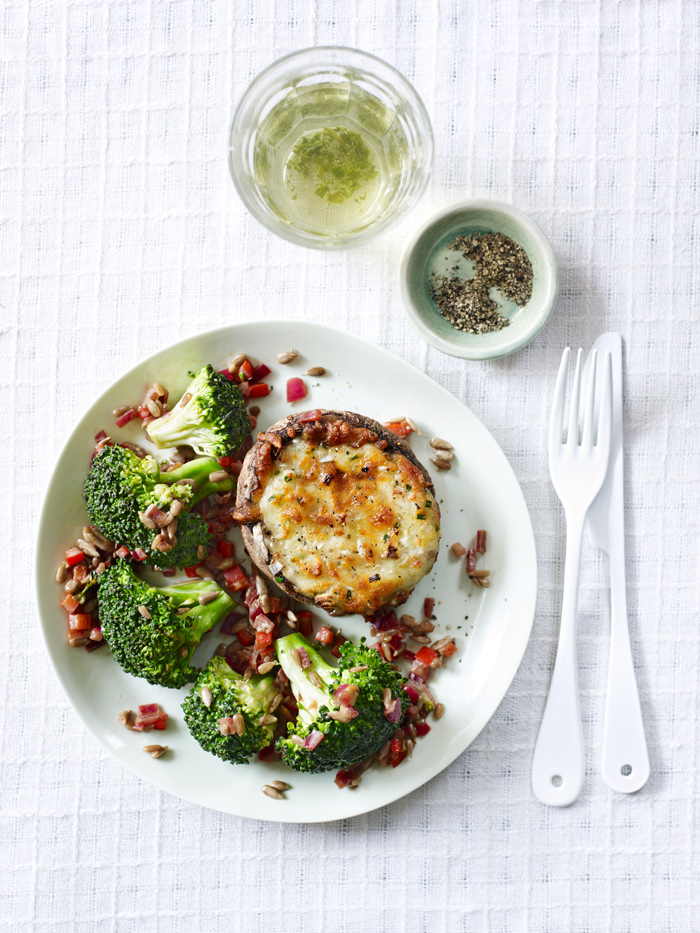 This is a lovely, low-carb vegetarian recipe which is a perfect light meal, and a great source of protein and calcium. Broccoli salads can be a bit dull, but trust us, combined with sunflower seeds, pepper and a dressing, it makes a tasty accompaniment.

Low-Carb Stuffed Mushrooms with Broccoli & Sunflower Seed Salad

Serves: 2
Preparation time: 15 minutes
Cooking time: 20 minutes

For the stuffed mushrooms
2 large mushrooms, stems removed
2 shallots, finely chopped
1 garlic clove, crushed
4 chive stalks, finely chopped
60g/2 ¼ oz mozzarella cheese, grated
freshly ground black pepper
For the broccoli and sunflower seed salad
½ red onion, finely chopped
½ red pepper, deseeded and finely chopped
1 tbsp balsamic vinegar
2 tsp agave nectar
2 handfuls of small broccoli florets
2 tbsp sunflower seeds
2 tbsp mayonnaise
1 tsp apple cider vinegar

1. Preheat the oven to 180c /350f/gas 4. Put the mushroom caps, gill-side up, on a baking tray. Mix together the shallots, garlic, chives and mozzarella, then season to taste with pepper. Spoon the mixture into the mushrooms and pat down, then bake for about 20 minutes until golden.
2. Meanwhile, put the onion, red pepper, balsamic vinegar and 1 teaspoon of the agave nectar in a non-stick saucepan over a medium heat and cook, uncovered, for a few minutes until softened slightly. Add the broccoli and sunflower seeds and cook for a further 1 minute to warm through. Leave to cool slightly. Mix together the mayonnaise, cider vinegar and the remaining agave nectar, then stir into the broccoli mixture.
3. Serve the baked mushrooms hot with the broccoli salad.
Nutrition notes per serving:
• Calories: 284kcals
• Fat: 20g
• Carbohydrates: 16g
If you're looking for a new approach to healthy eating and weight loss, nutritional therapist Laura Lamont's The New Low-Carb Diet is the effective long-term answer. Out in April – just in time for summer.
"Groundbreaking recipes for healthy, long-term weight loss"
The New Low-Carb Diet by Laura Lamont
160 pages • Illustrated • £12.99
AUS $24.99 NZ $30.00
Order now with free UK postage!