From Zita West's Eat Yourself Pregnant
The UK's most trusted expert on fertility, Zita West says that she has always been fascinated by the role nutrition takes in every couple's ability to have a healthy, happy baby. Her new book, Eat Yourself Pregnant, is due out in this month!

Get your body baby-ready – The EYP Fertility Diet
Good, wholesome food forms the bedrock of getting your body baby-ready, and of making healthy eggs and sperm.
Eat natural, whole foods
First things first – the quality of your food is paramount. Nutrient-dense foods both nourish and satisfy you. Keep processed foods to a minimum. Base your diet around fresh vegetables, sea vegetables, nuts and seeds, fermented foods such as yogurt and kefir, beans, pulses and, if you eat animal products, include free-range eggs, wild-caught fish, game and naturally reared animals. Ideally switch to organic.
Eat low-GL carbs
Slow-releasing carbohydrates avoid insulin spikes. Pile your plate full of vegetables; limit fruit to two portions a day; and consume between one and two portions of whole grains daily. Avoid white refined carbohydrates, processed foods and sugars.
Focus on alkalizing foods
A more alkaline diet is easier on your digestive system and will help your body maintain an acid–alkaline balance. Include plenty of alkalizing vegetables such as leafy green vegetables with each meal.
Avoid low-fat foods
Healthy fats and cholesterol are vital for your body, enabling the absorption of key nutrients and the production of hormones. Egg and sperm health depend upon an adequate supply of omega-3 fatty acids from oily fish and seeds. Include healthy saturated fats such as coconut oil, wild-caught fish, grass-fed meats and organic dairy and eggs, as well as monounsaturated fats such as those in extra virgin olive oil, nuts and avocados. Choose full-fat dairy foods rather than skimmed or semi-skimmed.
Eat your antioxidants
Aim to include a minimum of three portions of vegetables daily and two portions of fruit. Here are some of the key antioxidant foods that should become staples in your diet, and their food sources:
Vitamin C Berries, citrus fruits; leafy green vegetables, red peppers
Vitamin E Nuts and seeds and their oils
Co-enzyme Q10 Beef, chicken, pork; salmon, trout; broccoli; oranges
Selenium Lamb, turkey; cod, halibut, salmon, sardines, tuna; Brazil nuts
N-acetylcysteine Chicken, duck, pork, turkey; dairy, eggs; broccoli, onions, red peppers
Lycopene Guava, grapefruit, Sharon fruit, tomatoes, watermelon
Zinc Beef, chicken, lamb, pork; spinach; oysters; pumpkin seeds, nuts, wheatgerm; cocoa
Include gut-friendly foods
Probiotics or healthy bacteria are essential for gut health and immunity. Eat fermented or cultured foods daily – including natural yogurt, kefir, sauerkraut, kimchi, miso, and pickled vegetables.
Plan your plate
How do you fill your plate? Aim to fill half of your plate with low-carb colourful vegetables; one-quarter with good-quality protein-rich foods (fish, seafood, meat, eggs, nuts, beans, lentils); and the remaining quarter with some starchy vegetables, such as potato or sweet potato, or whole grains (for example, rice or quinoa).
Drink plenty
Water is essential for digestion, nutrient absorption and transportation, cell health and the removal of toxins via the liver and kidneys. Keeping hydrated will promote energy levels and clear thinking. Aim for eight glasses of water or water-based liquid daily. Herbal teas, green juices and smoothies will contribute to this target; caffeine and carbonated drinks will not.
Chilli-Glazed Salmon with Cucumber Lime Salad

Salmon is an excellent source of omega-3 fatty acids, which are important for circulation and male and female fertility. In this dish, salmon fillets are marinated in a tangy Asian-style dressing and accompanied by a light and refreshing cucumber salad – perfect for summer days.

Serves: 2
Preparation time: 10 minutes, plus 30 minutes marinating
Cooking time: 7 minutes

1 pickled chilli, drained
2 garlic cloves, crushed
1 tbsp soy sauce
2 tbsp apple cider vinegar
2 tbsp coconut sugar or xylitol
2 boneless wild Alaskan salmon fillets, with skin

CUCUMBER LIME SALAD
2 tbsp lime juice
1 tbsp xylitol
1 tbsp mirin
1 handful of bean sprouts
1 cucumber, halved and thinly sliced
2 spring onions, sliced finely
1 tbsp chopped cashew nuts
1 small handful of mint leaves, chopped
1 small handful of coriander leaves, chopped

1. Put the chilli, garlic, soy sauce, vinegar and coconut sugar in a food processor and process to combine. Put the salmon fillets in a shallow, non-reactive dish. Pour over the marinade, cover and leave to marinate in the fridge for 30 minutes.
2. Make the dressing for the salad by mixing together the lime juice, xylitol and mirin in a small bowl until the xylitol has dissolved. Put the bean sprouts, cucumber, spring onions, cashews, mint and coriander in another bowl, pour over the dressing and toss until well combined.
3. Preheat the grill to high and line a baking tray with foil. Remove the salmon from the marinade, reserving the marinade, and place on the prepared baking tray. Grill for about 7 minutes, or until the fish is golden and just cooked through.
4. Meanwhile, put the reserved marinade in a small saucepan and simmer to reduce slightly to form a thicker, sticky glaze. Pour over the cooked salmon and serve with the cucumber lime salad.

Eat Yourself Pregnant by Zita West
Out August 2014
Available for pre-order from Amazon now
https://nourishbooks.com/wp-content/uploads/2014/06/Chilli-Glazed-Salmon-with-Cucumber-Lime-Salad.jpg
301
340
Victoria Lagodinsky
https://nourishbooks.com/wp-content/uploads/2018/04/NourishLogo340x156-300x138-300x138.png
Victoria Lagodinsky
2014-06-30 13:41:07
2015-09-17 16:28:31
Eat Yourself Pregnant – the importance of nutrition for fertility
From Nicky Graime's The Low-Sugar Cookbook
Guidelines from Public Health England, the government agency advising on tackling obesity, yesterday stated that women should have no more than 5–6 teaspoons of sugar a day and men 7–8 teaspoons. Bearing in mind that a can of fizzy drink has approximately 7–9 teaspoons of sugar in it, this means cutting our consumption of sugar – often dramatically.
One of the best ways to cut down on sugar intake is by avoiding processed foods – including savoury items, too. Shockingly, 80% of processed food in the USA contains added sugar. Currently senior figures in the medical establishment are putting pressure on the Government to force food manufacturers to cut sugar levels and to ensure products are clearly labelled. But this will inevitably take time. By avoiding ready-meals, packaged desserts and all the other processed foods – and by making your own recipes – you are in control of the ingredients you use. That includes avoiding unwanted sugar, additives, colourings and flavourings.
Try this cake instead of a pre-packaged one. It's simple to make and has only 4 tablespoons of xylitol (a natural sugar alternative that doesn't raise blood sugar levels in the same way as ordinary sugar, and doesn't have the health implications associated with fructose) and the juice of 1 orange.
Chocolate & Orange Cake
Serves: 12
Preparation time: 15 minutes
Cooking time: 25–30 minutes

50g/1¾oz/3 tbsp butter or coconut oil, plus extra for greasing
60g/2¼oz dark/baking chocolate (75% cocoa solids), broken intro squares
3 eggs, separated
4 tbsp xylitol
finely grated zest of 2 oranges and juice of 1 orange
70g/2½oz/scant ⅔ cup self-raising flour
2 tbsp unsweetened cocoa powder
1. Preheat the oven to 150°C/300°F/Gas 2. Lightly grease and line the base of a 20cm/8in springform cake tin.
2. Melt the butter and chocolate in a heatproof bowl placed over a saucepan of gently simmering water, making sure the bottom of the bowl does not touch the water. Stir occasionally until the chocolate and butter have melted, then remove from the heat.
3. Whisk the egg yolks with the xylitol in a mixing bowl until pale, then stir in the chocolate mixture followed by the orange juice and zest. Sift the flour and cocoa powder into the chocolate mixture and fold in using a wooden spoon.
4. Whisk the egg whites in a large, grease-free mixing bowl until they form stiff peaks. Using a metal spoon, stir a spoonful of the whites into the chocolate mixture to slacken it, then fold in the remaining egg whites until they are well combined.
5. Spoon the mixture into the prepared cake tin, then bake in the preheated oven for 20–25 minutes until risen. Remove from the oven and leave in the tin for 10 minutes, then turn out to cool on a wire rack. Can be stored in an airtight container for up to 5 days.

Cut down on your sugar with Quick & Easy Low-Sugar Recipes by Nicola Graimes. Delicious, simple-to-make recipes using naturally sweet foods and alternative flavourings so you can make irresistible healthy meals and snacks without having to resort to artificial sweeteners!


Find out more, and get free postage on all UK orders!
https://nourishbooks.com/wp-content/uploads/2014/06/Low-Sugar-Chocolate-Orange-Cake.jpg
300
340
Victoria Lagodinsky
https://nourishbooks.com/wp-content/uploads/2018/04/NourishLogo340x156-300x138-300x138.png
Victoria Lagodinsky
2014-06-27 17:00:03
2014-07-04 13:58:23
How to reduce your sugar intake – but still eat cake!
From Nicola Graimes' Veggienomics
This makes a light, summery meal or starter. After cooking the broad beans, it's best to remove their grey outer shell, which can be tough, to reveal the tender green bean inside. The beans are then stirred into a lemony goats' cheese mousse with some diced kohlrabi. I'd shied away from the alien-looking kohlrabi until fairly recently, but I 'm pleasantly surprised at how good it tastes – like a cross between a radish and a turnip – with a fresh, crisp texture.

Broad Bean and Goats' Cheese Crostini
Serves: 4
Preparation time: 15 minutes
Cooking time: 10 minutes
500g/1lb 2oz/4 cups shelled broad beans
75g/ 2½oz/½ cup peeled and diced kohlrabi
1 handful of mint leaves, chopped
8 thick slices of country-style bread/ciabatta
1 large garlic clove, halved
½ small red onion, thinly sliced into rounds

For the Goats' Cheese Mousse
225g/ 8oz fresh, mild goats' cheese
zest of 1 lemon
2 tbsp milk
2 tbsp olive oil
sea salt and freshly ground black pepper

1. Bring a pan of salted water to the boil over a high heat. Add the broad beans and boil gently for 2–3 minutes until tender, then drain and refresh under cold running water. When cool, peel off the grey outer skins and put the beans in a bowl with the kohlrabi and half of the mint.
2. While the beans are cooking, make the goats' cheese mousse. Beat together the goats' cheese, lemon zest, milk and olive oil, then season with salt and pepper. Fold into the broad bean mixture.
3. Toast the bread and rub one side of each slice with the cut side of the garlic. Serve the toast topped with the broad bean mixture and scatter the onion and remaining mint over.

Looking for cheap, delicious and healthy vegetarian cooking? Then try the world of Veggienomics. Click to find out how this cookbook can help you cut down your shopping bill!
https://nourishbooks.com/wp-content/uploads/2014/06/goats-cheese-mouse-with-broad-bean-puree.jpg
300
340
Victoria Lagodinsky
https://nourishbooks.com/wp-content/uploads/2018/04/NourishLogo340x156-300x138-300x138.png
Victoria Lagodinsky
2014-06-25 00:00:42
2014-10-20 09:01:42
Broad Bean and Goats' Cheese Crostini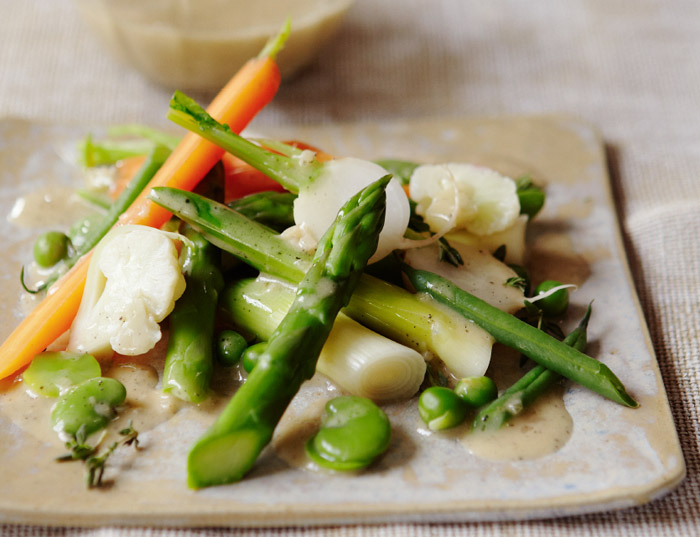 Daniel Galmiche, Michelin-starred chef and author of Revolutionary French Cooking shows you how to make this summer vegetable ragout, served with a stylish vanilla beurre blanc – a colourful, light and fresh summer dish that's perfect for family gatherings. The vegetables only need a minimal amount of cooking before they are coated in a light butter sauce, scented with fresh vanilla seeds and thyme. One small point – don't over do the vanilla or you will disturb the delicately balanced flavour of the dish. It's delicious served on its own or with roasted meats.

Ragoût of Summer Vegetables with Vanilla Beurre Blanc
Serves: 4
Preparation Time: 20 minutes, plus making the stock
Cooking time: 40 minutes

100g/3½oz podded broad beans, grey outer casing removed
200g/7oz peas, podded
100g/3½oz green beans, halved
100g/3½oz baby carrots, scrubbed
100g/3½oz baby leeks, trimmed and each cut into 3 pieces
100g/3½oz baby turnips, peeled and quartered
1 bunch of asparagus tips
1 baby cauliflower, cut into florets
leaves from 1 thyme sprig
sea salt and freshly ground black pepper

For the vanilla beurre blanc:
500ml/17fl oz/2 cups vegetable stock
200g/7oz unsalted butter, softened, cut into cubes
1 shallot, finely chopped
finely grated zest and juice of ½ lime
1 vanilla pod, split in half lengthways and seeds scraped out (you can keep the pod for vanilla sugar)

1. Pour the stock for the vanilla beurre blanc into a small sauté pan and cook over a medium-high heat for 15 minutes until reduced to 150ml/5fl oz/scant ²∕³ cup. Leave to one side.
2. Meanwhile, bring a saucepan of salted water to the boil over a high heat and cook the vegetables, one type at a time, for 2–5 minutes each until just tender. Lift out with a slotted spoon, refresh in iced water, then drain once more, tip carefully into a bowl and leave to one side. Put a lid on the pan of water and reserve for reheating the vegetables just before serving.
3. To make the beurre blanc, melt 20g/¾oz of the butter in a small pan over a medium heat and fry the shallot for 2 minutes until just softened. Stir in the lime juice, then add the reduced stock and the vanilla seeds. Bring to a simmer and cook for 5–8 minutes until there is about 110ml/4fl oz/scant ½ cup of buttery stock.
4. Turn the heat down to very low and gradually whisk in the remaining softened butter, a few cubes at a time. Keep whisking until the butter has been incorporated before adding the next batch. This will stop the sauce splitting by keeping it at a constant temperature. As you are whisking, you should see a foam of tiny bubbles form on top of the mixture and when all the butter has been added, the sauce should be pale in colour and light in consistency, similar to a very thin custard, and should just coat the back of the spoon. This will take 10–12 minutes. At this point, season with salt and pepper to taste and add the lime zest. Cover with a lid and leave to one side in a warm place.
5. Return the saucepan of water to the boil over a high heat and add the vegetables. Cook for a minute or so until heated through, then drain on kitchen paper. Serve the vegetables with the vanilla beurre blanc spooned over the top and sprinkled with the thyme.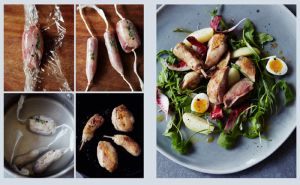 Continue to master contemporary French cuisine with Daniel Galmiche's Sous-vide Masterclass, and show off some cheffy skills to your friends and family!
£19.99
Order now with free UK postage 
https://nourishbooks.com/wp-content/uploads/2014/06/vanilla-beurre-blanc-and-summer-vegetable-ragout.jpg
300
340
Victoria Lagodinsky
https://nourishbooks.com/wp-content/uploads/2018/04/NourishLogo340x156-300x138-300x138.png
Victoria Lagodinsky
2014-06-23 15:30:11
2014-06-23 15:30:11
Ragoût of Summer Vegetables with Vanilla Beurre Blanc
Emma Macdonald from The Bay Tree Preserving – pre-order from Amazon

Mediterranean vegetables make this an unusual alternative to the usual piccalilli and would make a lovely summer variation, particularly if you have a good supply of courgettes, peppers and tomatoes. You can serve it hot or cold.

Homemade Mediterranean Piccalilli
Makes About: 1.5kg/3lb 5oz
Preparation Time: 40 minutes, plus 1 month maturing
Cooking Time: 25 minutes

4 tbsp olive oil
700g/1lb 9oz aubergines, cut into bite-sized cubes
700g/1lb 9oz courgettes, sliced
350g/12oz green peppers, halved lengthways, deseeded and cut into bite-sized pieces
350g/12oz red peppers, halved lengthways, deseeded and cut into bite-sized cubes
350g/12oz onions, roughly chopped
350g/12oz tomatoes, roughly chopped
2 garlic cloves, finely chopped
55g/2oz/scant ½ cup plain white flour
1 tsp ground cinnamon
1 tsp freshly ground nutmeg
2 tbsp turmeric
½ tsp dried oregano
1 tsp ground black pepper
2 tsp salt
600ml/21fl oz/scant 2½ cups white wine vinegar
175g/6oz/heaped ¾ cup granulated sugar

1. Sterilize enough wide-necked jars with non-metallic, vinegar-proof lids, or preserving jars, so that they are ready to use.
2. Heat the oil in a preserving pan, add the aubergines, courgettes, peppers, onions, tomatoes and garlic and fry for about 15 minutes, stirring frequently, until the vegetables are tender. The vegetables should be soft but not mushy.
3. Meanwhile, put the flour, cinnamon, nutmeg, turmeric, oregano, black pepper and salt in a bowl. Add 2 tablespoons of the vinegar and blend together until smooth.
4. Pour the remaining vinegar into the pan. Add the sugar and heat over a low heat, stirring until the sugar has dissolved.
5. Stir the spice mixture into the pan. Slowly bring to the boil, stirring all the time and then cook for 2 minutes until thickened. Season with salt if necessary.
6. Spoon the piccalilli into the warmed, sterilized jars. Seal immediately, label and store in a cool, dry, dark place.
7. Leave to mature for at least 1 month before using. Refrigerate after opening.
https://nourishbooks.com/wp-content/uploads/2014/06/make-your-own-piccalilli-at-home.jpg
300
340
Victoria Lagodinsky
https://nourishbooks.com/wp-content/uploads/2018/04/NourishLogo340x156-300x138-300x138.png
Victoria Lagodinsky
2014-06-21 00:00:48
2014-06-23 09:47:23
Make Your Own Mediterranean Piccalilli