by Tiff & Jim Easton
The sun is shining and you make a last-minute decision to head off with your tent. With planning time at a minimum, simplicity is key, so what you need are recipes that have a short list of ingredients which you may already have at home, or which are easy to find in a local shop. Even on an impromptu weekend camping trip without much preparation or equipment, there is lots here for children to get involved in and enjoy.

The Essentials – Useful Ingredients to Always Have With You
Ground allspice • chilli sauce • fresh herbs (mint leaves, thyme sprigs, bay leaves or parsley leaves) • olive oil and/or sunflower oil • root ginger• salt and pepper • soy sauce • stock cubes • sugar and/or clear honey • vinaigrette
Soy & Ginger Salmon Parcels
We love this served with noodles and Chinese chilli sauce. If you can cook the salmon in the embers of an open fire, you'll get an added charred dimension.
Preparation time: 10 minutes
Cooking time: about 10 minutes
Ingredients: Salmon steaks or 4 boneless, skinless salmon fillets; 4 tsp suflower oil; 4 tbsp soy sauce, plus extra to serve; 2.5cm/1in piece of  root ginger, peeled and finely chopped; 4 pak choi, stems sliced and leaves left whole or 1 broccoli head, cut into florets; cooked noodles or rice,  to serve; lime wedges, to serve; chilli sauce, to serve.
1. Cut four rectangles of foil, each large enough to enclose a salmon steak. Scrunch up the edges of each rectangle, then spoon 1 teaspoon of the oil into each one and top with a salmon steak.
2. Sprinkle each salmon steak with 1 tablespoon of the soy sauce and one-quarter of the ginger. Pull up the foil to enclose, tightly sealing the seams  of the salmon parcels to prevent them from leaking.
3. Cook over a low heat on a barbecue or in a griddle pan for about 10 minutes until the salmon is opaque and just cooked. For a real taste of the outdoors, cook the parcels in the glowing embers of an open fire. Remember to move the parcels from time to time to allow the salmon steaks to cook evenly.
4. Meanwhile, bring a saucepan of lightly salted water to the boil and add the pak choi. Blanch for about 3–5 minutes until the pak choi is tender but still retains a slight crunch. Unwrap the salmon parcels and serve hot with the blanched pak choi, noodles, lime wedges, soy sauce and chilli sauce.
Cashew Nut Stir-Fry
Stir-fries are always fantastic first-night meals as they are quick and easy to prepare in one pan. This one is no exception. The broccoli in the recipe can be substituted with French beans or any combination of mixed vegetables.
Preparation time: 5 minutes
Cooking time: about 10 minutes
Ingredients: 2 tbsp sunflower oil; 1 broccoli head, cut into small florets; 2 garlic cloves, finely chopped; 5cm/2in piece of root ginger, peeled and finely chopped; 4 spring onions, sliced; 1 tbsp soy sauce, plus extra to taste; 200g/7oz/scant 1¹/³ cups cashew nuts; 450g/1lb fresh noodles; chilli sauce, to serve.
1. Heat the oil in a large frying pan over a high heat. Add the broccoli and stir-fry, stirring frequently, for 1 minute.
2 Add the garlic, ginger, spring onions, soy sauce and 4 tablespoons water and stir-fry for another 3 minutes until the broccoli is just tender, adding  a little more water if needed. Add the cashew nuts and stir-fry for another  1 minute.
3 Add the noodles and stir-fry for about 2–3 minutes until the noodles are cooked. Taste and add more soy sauce, if you like. Serve immediately with chilli sauce.
Barbecued Pineapple Wedges    
Put this on the barbecue to cook just before you sit down to eat your dinner. The longer it has to cook, the more caramelized your pineapple  will become. For an extra dimension, add a splash of rum to the butter.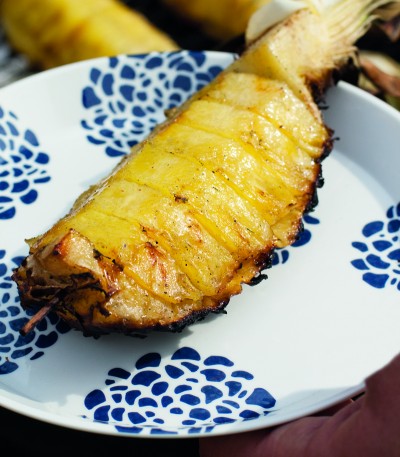 Preparation time: 15 minutes
Cooking time: about 25 minutes
Ingredients: pineapple; 55g/2oz butter; 2 tbsp sugar, any variety.

1. If using wooden skewers, soak them in cold water for at least 30 minutes before grilling.
2. using a sharp knife, cut the pineapple, including the green top, into quarters lengthways. Cut between the flesh and the skin to release the flesh, but keep the skin in place. Slice the flesh on each pineapple quarter into chunks and push a long skewer lengthways through each wedge and into the skin to hold the flesh in place during cooking.
3. Heat the butter in a saucepan over a low heat until melted. Remove from the heat, add the sugar and mix. Brush the butter mixture over the pineapple quarters.
4. Cook, skin-side down, over a high heat on a barbecue or in a griddle pan for about 20 minutes until golden brown and soft. Serve warm.
Tiff & Jim Easton
Family Camping Cookbook
Available from Nourish Books
£10.99
https://nourishbooks.com/wp-content/uploads/2015/05/camping-.jpg
778
1000
Nourish
https://nourishbooks.com/wp-content/uploads/2018/04/NourishLogo340x156-300x138-300x138.png
Nourish
2015-05-28 11:50:13
2015-05-29 16:36:33
No need to plan! Recipes ideas for spontaneous camping