Never tried raw chocolate? This recipe will change your mind…
Nicola Graimes' melt-in-the-mouth Orange-drenched Date and Raw Chocolate Truffles show how easy it is to coax the best out of uncooked ingredients. If you've never tried a raw food recipe this is the perfect introduction to raw food cooking. Make the truffles this weekend and invite your friends over to sample them, or maybe just treat yourself!
Orange, Date and Raw Chocolate Truffles Recipe
Makes 18
50g/1¾oz/1/3 cup blanched almonds
50g/1¾oz/1/3 cup cashews
100g/3½oz/heaped 1 cup dates, coarsely chopped
3 tbsp orange juice
zest of 1 orange
1 tbsp agave syrup or honey
3 tbsp raw cacao powder, plus extra for coating
seeds from 2-3 cardamom pods
desiccated coconut, for coating

1. Put the almonds and cashews in a food processor and process until ground, then transfer to a mixing bowl. Put the dates in the food processor and process to a paste. You may have to stop occasionally to scrape the dates from the sides of the bowl. Put the date paste in the bowl with the nuts and add the orange juice and zest, agave syrup and raw cacao.
2. Using a mortar and pestle, grind the cardamom seeds, then add them to the bowl. Stir until combined into a thick paste.
3. Coat a plate with extra raw cacao powder. Shape 1 tablespoon of the date and nut mixture into a ball and roll it in the cacao. Repeat to make 9 cacao-coated truffles in total.
4. Coat a second plate with desiccated coconut. Follow the same method in step 3 to make 9 more truffles, this time rolling them in the coconut. Chill the truffles until ready to eat.
There's more delicious vegetarian sweet treats in New Vegetarian Kitchen by Nicola Graimes. Nicola is passionate about vegetarian food. For her, it is all about celebrating flavours, textures, aromas and colours – and a magical transformation from the raw ingredients to the finished dishes.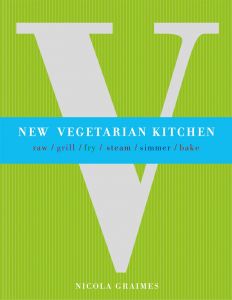 New Vegetarian Kitchen by Nicola Graimes
240 pages • Illustrated • £14.99
AUS $29.99