Baked vegetable crisps – use up root or starchy vegetables for a delicious Friday or Saturday night treat.
"I love making a huge bowl of these healthy crisps, which can be prepared with other vegetables as well. I often make them using carrot, daikon radish or pumpkin" says Adele McConnell, author of The Vegan Cookbook. "It's a great way to use up any root or starchy vegetables you have in your vegetable rack."
Adele MacConnell has been blogging on her vegan website, Vegie Head, since 2010, and her recipes have been enjoyed and recreated by tens of thousands of people all over the world. She believes you can change people's perspective on veganism and vegetarianism without scaring them away with statistics, facts or disturbing images, or by listing what they can't do or eat. "Instead, you can show them what they can eat and that eating vegan food is an adventure in taste and ingredients" says Adele.
Baked Chilli Vegetable Crisps Recipe
Serves 2
Preparation Time: 20 minutes
Cooking time: 35 minutes
2 beetroots
1 sweet potato
1 parsnip
1 potato
2 tbsp olive oil or melted coconut oil
½ tsp sea salt
½ tsp garlic powder
½ tsp dried basil
½ tsp dried oregano
½ tsp dried rosemary
2 tsp crushed chillies
1 tsp paprika
1. Preheat the oven to 180°C/350°F/Gas 4. Use a wire rack over a baking tray to cook the crisps – this will ensure they are evenly cooked and crisp up well.
2. Slice all the vegetables into uniformly thin slices, preferably using a mandolin.
3. Put the vegetables in a large bowl and drizzle with the oil. Sprinkle over the flavourings and mix well to cover the slices completely.
4. Arrange the slices on the rack in a single layer and bake for 10–12 minutes until crisp and lightly golden. You may have to do this in batches. Cool and serve. Store vegetable crisps in an airtight container for up to 3 days.
Adele McConnell is the founder of the hugely successful vegan food blog, vegiehead.com, and was the winner of the prestigious 'Vegan Food Blogger Award' by The Vegan Woman 2012. She loves sharing her passion for vegan food. Watch her inspiring, easy-to-follow cookery demonstrations on her YouTube channel.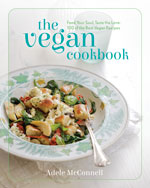 "Feed your soul, taste the love: 100 of the best vegan recipes"
The Vegan Cookbook by Adele McConnell
176 pages • Illustrated • £14.99
AUS $28.00 NZ $35.00