-by Nick Moyle and Richard Hood
Spring, at long last, has started warming up the land, giving us longer days in the sun and set off some vigorous plant growth, meaning we're able to head out into the garden and wild hedgerows in search of things to turn into booze. There may not be the wide choice of ingredients that summer and autumn provide, but there are still plenty of flavours available to make a varied array of drinks. Here are our five favourite spring harvests.
Rhubarb
One of the first edible plants to announce itself on the allotment is rhubarb, a veg that tastes like no other and is adept at seeing off the coldest winters, coming back bigger and stronger every year. Rhubarb wine was one of the first drinks we made from a home grown harvest and our easy recipe has inspired many fellow allotmenteers to have their first dabble with a demijohn. Rhubarb is also a great ingredient for infusing in vodka and sweetened with sugar to make a delicious liqueur, either on its own or paired with other flavours such as orange or ginger. We've even found room for it in a home brewed beer, adding a slightly sour, fruity tang to a light, malty ale (don't believe it works? Then try this). Such is our reverence for the rhubarb we're currently growing six different varieties to see which one makes the best booze.
Nettles
If nettles didn't have a habit of growing where they're not wanted and blighting bare flesh with irritating stings, they would be considered a vegetable treasure. Used like spinach the leaves have a superbly healthy flavour making them a great free treat for the kitchen – nettle risotto is one of our favourites. A nettle harvest can also be used for numerous drinks, so it's well worth stepping out with a pair of rubber gloves to grab a load. Nettle wine is said to be rather good, although we've yet to try this ourselves, instead opting to turn it into a light, refreshing beer. Leaves can be used to flavour regular ales as an alternative to hops, but our preference is for a nettle only concoction, quickly fermented along similar lines to traditional ginger beer and low in alcohol. It has a surprisingly zesty flavour, along with some earthier notes, that make it an ice cold treat to accompany the first barbeque of the year.
Dandelions
Anything nettles can do, dandelions would claim to do better. Also used as a hop substitute they provide a distinctive bitterness to ales and can be used solo for a beer
similar to that made by nettles – with leaves, roots and flowers all being plunged into the brewing pot. We like to give this particular brew a fruity overhaul by adding oranges, lemons and grapefruit to the recipe – a zesty delight that makes a spot of weeding all the more worthwhile. The sunny, yellow flowers of the dandelion can also be used to make another of our favourite country wines that, according to tradition, should be started on St George's day. If you don't mind getting yellow stained fingers then fill a bag with flowers and follow the simple recipe on our website.
Tree leaves
It may sound strange to the brew-it-yourself novice, but the young leaves of several trees can be used to flavour alcoholic beverages. Leaves tend to bring slightly nutty notes to drinks, enabling us to expand our flavour repertoire in new and unusual directions. So far we've had most success with leaves from the mighty oak, the ubiquitous beech and the harder to track down walnut (Nick is lucky enough to have a few ancient walnut trees growing in his neighbouring park). We've used both young and old oak leaves for wine – the older the leaf, the nuttier the flavour – and they make for an intoxicatingly quaffable drink. We soak our beech leaves in various spirits for some unique infusions and liqueurs – similar in style to a 'noyeaux', they're great for delivering a nutty punch to cocktails. Walnut leaves are an ingredient in some ancient mead recipes, the heady wine-like tipple made from fermented honey, and give the finished drink a robust, herby flavour. We made a walnut leaf mead two years ago – it's slow maturation means it should be ready for us to sample any time now.
Rosemary
Although available all year round, rosemary starts to put on rapid growth in spring, making it at its flavoursome best. Besides being an herby foil for roast lamb, it's also a useful bittering ingredient in booze. It has found its way into many fortified wines, spirit infusions and cocktails but it's beer we think it suits best. This month we're crossing the county border from Somerset to Gloucestershire to collaborate with an exciting new brewery on our own rosemary and coriander beer, featuring herbs and hops grown in the garden. We're hoping to hang on to enough bottles to see us through to summer.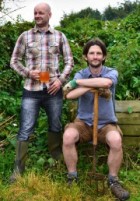 About the Authors: Nick Moyle and Richard Hood both grew up during the UK home-brew boom of the 1970s and 80s, with parents who regularly made their own drinks from home-grown produce, enlisting their help. This fired up a life-long obsession for the art of brewing and in 2008 they built their own cider press and have been producing cider for local pubs, beer festivals and deserving friends ever since. They started their Two Thirsty Gardeners website in 2012, which inspires thousands of loyal followers.
  Nick Moyle and Richard Hood
  Brew It Yourself
  ISBN: 9781848992276
  Available in July 2015
Sign up for our newsletter to get our new articles straight to your inbox every month.