-by Nick Moyle and Richard Hood
The long, hot days of summer (yes, both of them) are when the garden is usually enjoyed at its best. We like nothing better than lolling around on the lawn after a hard day hoeing with a cool glass of home made beer, cider or fancy cocktail, contemplating what to brew next. Happily there are plenty of potential ingredients ready for picking and turning into booze. Here are five of our favourites…
Mint
Few things say summer more than sticking a sprig of mint into a glass of booze and topping it up with ice. From a white wine spritzer to an ice cold sangria or even a heady, appley cider, a fragrant green leaf or two adds an unmatchable fresh twist to drinks. We, however, like to turn a simple twist into a full on minty boogie, which is why you'll often see us reaching for the rum to mix up a mint packed mojito. But we don't stop there. Our home made crème de menthe kicks into touch any bright green supermarket versions you may have encountered, and we even turn great handfuls of the stuff into a fantastically fresh mint wine.
Raspberries
No end of English folk are quick to declare the strawberry summer's greatest fruit. And while it does a fine job of adding some fruity sophistication to a glass of Pimm's, it lacks the versatility of our favourite berry, the raspberry. Being popular among the good people of Scotland you won't be surprised to hear that it makes a fine whisky based liqueur. A vodka spirited raspberry liqueur is almost as impressive and a shot of the vibrant red liquid into a glass of fizzy wine makes a delicious 'Kir Imperial' – a redder alternative to posh blackcurrant cocktail Kir Royale. Raspberries are also our favourite fruit to add to beer recipes, with malty ales and crisp wheat beers all getting their berry bonuses.
Flowers
Elderflowers are out en masse as spring gives way to summer, encouraging lots of people to have a go at the only alcoholic fermentation they'll make all year – a sparkling drink often referred as 'elderflower champagne'. But there's no reason to stop there: a similar amount of effort (but longer waiting time) can reward you with a much boozier elderflower wine; or an elderflower liqueur (like St Germain) can be made by soaking the flowers in sweetened vodka. If you've already missed elderflower season, fear not, because there are lots more edible summer blooms that can be used for booze. Fancy some floral fizz? Give lavender a go. Want a winning summer wine? Try red clover. Got a penchant for a sweet, peppery aperitif? Then nasturtium liqueur could be right for you.
Beetroot
Suggest to wine connoisseurs that you can make a decent bottle of plonk out of muddy root vegetables and they'll laugh you out of the wine cellar. But, mud aside, there's a lot to be said for fermenting a rooty harvest – mainly the high sugar content and unique sweet flavours. We have often turned to carrots and parsnips for our demijohn antics, but perhaps the most interesting veg for beginners – on account of its robust, red colouring – is beetroot. Use it as a wine flavour on its own, or tickle it up a notch with a few carefully selected spices, and you'll not regret it. What's more, beetroot can also be fermented to make a magnificent Eastern European tipple: kvass. Na zdorovie!
Chillis
You may think the last thing anyone needs during the hottest days of the year is the red raw heat of a freshly picked chilli bombing your glass of cold booze. But it's time to think again. A blast of chilli flame prior to a cooling sip of cocktail is a marvellous thing – as anyone who has lined a margarita glass with chilli, salt and lime can testify. Another of our favourite summer drinks to get the hot rim treatment is Mexican 'tepache' – a quick and easy fermented drink made from pineapple. Bloody Mary fans should try infusing a chilli or two in vodka before plunging it into tomato juice, and anyone having a go at some home made ginger beer might like to follow Rich's lead: he adds Scotch bonnets to the mix for an extra fearsome fizz.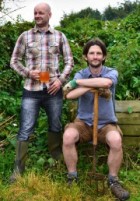 About the Authors: Nick Moyle and Richard Hood both grew up during the UK home-brew boom of the 1970s and 80s, with parents who regularly made their own drinks from home-grown produce, enlisting their help. This fired up a life-long obsession for the art of brewing and in 2008 they built their own cider press and have been producing cider for local pubs, beer festivals and deserving friends ever since. They started their Two Thirsty Gardeners website in 2012, which inspires thousands of loyal followers.
  Nick Moyle and Richard Hood
Brew It Yourself
  ISBN: 9781848992276
  Available in July 2015
Sign up for our newsletter to get our new articles straight to your inbox every month.
https://nourishbooks.com/wp-content/uploads/2015/06/elderflower_fermenting_660x250.jpg
250
660
Nourish
https://nourishbooks.com/wp-content/uploads/2018/04/NourishLogo340x156-300x138-300x138.png
Nourish
2015-06-15 09:28:32
2015-06-15 09:28:32
Best Summer Harvests to Turn into Drinks