Summer and the Mediterranean go together like eggs and bacon (or just butter and eggs if you're vegetarian) and here I've selected 6 of my favourite sun-soaked recipes that are light, vibrant and delicious. Bring them and friends together to make for a memorable lazy Eastern Mediterranean inspired lunch or late-evening alfresco gathering. Pop the arak open and enjoy.
Spinach & Labneh Dip
Booranis are a variety of yogurt-based dishes that are served as sides in Iran. They are cousins of mutabal, where yogurt is used instead of tahini. You can use any kind of green or vegetable instead of the spinach.
Serves: 4
Preparation time: 25 minutes, plus draining and chilling the yogurt and making the advieh, and the saffron liquid (optional)
Cooking time: 15 minutes
Ingredients:
2 tbsp sunflower oil
2 small shallots, finely chopped
1 onion, thinly sliced (optional)
300g/10 oz spinach leaves
a pinch of Advieh 1
2 garlic cloves, finely chopped
200ml/7fl oz/heaped  cup Greek yogurt or Labneh Dip (see page 221) a squeeze of lemon juice
1 tsp Saffron Liquid (optional)
sea salt and freshly ground pepper
warm Thin Flatbread or Toasted Triangles, to serve
Method:
1- Heat half the oil in a heavy-based frying pan over a medium heat. Add the shallots and fry for 8–10 minutes until soft and lightly golden. Transfer to a plate and set aside. Add the remaining oil to the pan and cook the sliced onion, if using, until golden and crispy. Set aside.
2- Meanwhile, put the spinach in a large saucepan and pour in 1l/35fl oz/4¹⁄³ cups boiling water. Cover and cook over a high heat for
1–2 minutes until it wilts. Rinse under cold running water, then drain well and squeeze firmly with the back of a spoon to extract as much liquid as you can.
3- Chop the spinach finely and add to the shallots. Add the advieh and garlic and season to taste with salt and pepper. Mix well and return the pan to a medium heat. Stir well, cooking for a further 2 minutes, then remove from the heat and leave to cool.
4- Position a colander over a bowl, and line the colander with two fine muslin cloths. Tip the yogurt in, join the sides of the cloth to create a pouch, and close by creating a tight knot. Squeeze the pouch and then leave it to sit in the colander as the whey drains for 10–15 minutes while the spinach cools. Discard the whey. Alternatively, if you have Labneh Dip on hand, you can use that.
5- Once the spinach mixture has cooled, transfer to a serving dish and mix in the yogurt. Add a squeeze of lemon juice, then taste and adjust the seasoning, if necessary. Put in the refrigerator for 1 hour to chill. Drizzle with saffron liquid and sprinkle with caramelized onion, if using. Serve extremely cold with warm Thin Flatbread.
Fattoush salad

Fattoush is a bread salad that has become synonymous with the Middle East. It's a good choice when you want to use up some soon-to-expire vegetables and stale bread. Bread holds a symbolic, almost revered, status in the Middle East. Growing up, I learnt that if I found a piece on the floor I should pick it up, kiss it and place it somewhere it would be appreciated. "Bread and penny never wasted": the idea is to make use of what is available and in season. Here is one of the many versions I've made over time.
Serves: 4
Preparation time: 10 minutes, plus making the toasted triangles
Ingredients:
4 tbsp extra virgin olive oil, plus extra for serving
juice of 1  lemons
200g/7oz mixed green leaves
2 tomatoes, cut into thin wedges
2 small red onions, thinly sliced
100g/3 oz/1 cup radishes, thinly sliced
100g/3 oz/1 cup cucumber, halved lengthways and thinly sliced
2 tbsp finely chopped dill leaves
a small handful of parsley leaves
4 tsp sumac
75g/2 oz/5 tbsp pomegranate seeds (see page 216)
115g/4oz/⁄ cup feta cheese, crumbled
1 recipe quantity Toasted Triangles (see page 49)
1 ripe avocado
sea salt and freshly ground black pepper
lemon wedges, to serve
Method:
1- To make the dressing, put the olive oil and most of the lemon juice in a mixing bowl and whisk together well. Adjust the sourness by adding  more lemon juice, if you like. (Note that the sumac will add a tang to the salad, so it's best to err on the side of caution first and adjust the zing of the salad once it has all been dressed.) Season to taste with salt and pepper. Set aside.
2-Put the mixed leaves, tomatoes, red onions, radishes, cucumber, dill and parsley in a serving bowl and drizzle over the dressing. Toss well, then sprinkle with the sumac, pomegranate seeds, feta and toasted triangles.
3-Cut the avocado in half, remove the pit and scoop out and dice the flesh, then add to the salad and gently toss again. Taste and adjust the seasoning, if necessary. Divide among four bowls and serve with lemon wedges and some extra olive oil.
Mussels in Arak

Arak, very much the national drink in Lebanon, is nicknamed the "milk of lions", most probably because when mixed with water to serve, it turns a milky white, but also because it was drunk by men, sometimes in the mornings, to show off their strength and masculinity. Arak is not traditionally used for cooking, but it works wonderfully in this dish, which has a double hit of anise from the Arak (use Pernod if you prefer) and tarragon. The flavour mellows nicely, leaving behind only the slightest hint of anise.
Serves: 4
Preparation time: 25 minutes
Cooking time: 12 minutes
Ingredients:
2kg/4lb 8oz fresh mussels
45g/1 oz/3 tablespoons salted butter
2 shallots, very finely chopped
200ml/7fl oz/scant 1 cup Arak or Pernod
200ml/7fl oz/scant 1 cup
dry white wine
2 tomatoes, very finely chopped
4 garlic cloves, finely chopped
1 bay leaf
juice of 1lemons
3 tbsp tarragon leaves, finely chopped, plus extra for sprinkling
sea salt and freshly ground black pepper
warm Arabic Bread (see page 217) or Potato Matchsticks (see page 218), to serve
Method:
1- Wash the mussels under cold running water, pulling off any beards from the shells (this should be done with a gentle pull in the direction of the "hinge"). Only do this just before cooking as this process can injure/kill the mussel, which is why some may not open after cooking. Scrape off any barnacles using the back of a sharp knife and discard any open mussels that don't close when given a tap on the work surface.
2- Melt the butter in a large, deep, heavy-based pan over a medium–low heat, add the shallots and cover and sweat for about 3–4 minutes until soft and translucent. Pour in the Arak and wine and add the tomatoes, garlic, bay leaf, lemon juice, tarragon, and salt and pepper to taste, then stir and simmer for about 2 minutes until reduced by half. Taste and adjust the seasoning if needed.
3- Add 120ml/4fl oz/½ cup water if you find the broth too reduced, then add the mussels. Cover and cook for 3–4 minutes, shaking the pan gently until all the mussels have opened. Don't overcook mussels, as they turn dry and tough. Discard any mussels that have not opened. Sprinkle with extra tarragon and serve with warm Arabic Bread or Potato Matchsticks.
Veiled Sea Bass with a Spicy Surprise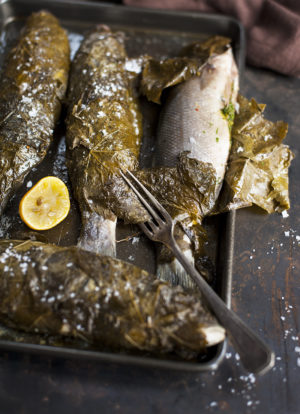 The inspiration for "veiling" these sea bass came from chef Greg Malouf, who "veils" quails using vine leaves. As I had an excess of bottled vine leaves, and a few sea bass defrosting, it seemed appropriate to marry them. The vine leaves lock the moisture in as the fish is steamed and they also lend a very subtle sweetness. If using fresh vine leaves, blanch them in boiling water for a minute, or until pliable.
Serves: 4
Preparation time: 20 minutes, plus making the preserved lemon
Cooking time: 25 minutes
Ingredients:
1 handful of parsley leaves
1 handful of coriander/cilantro leaves
2 tbsp finely chopped dill leaves
1 tbsp peeled and roughly chopped root ginger
1 mild red chilli, deseeded and roughly chopped
1 wedge of Preserved Lemon (see page 212), rind rinsed and roughly chopped
8 garlic cloves, crushed with the blade of a knife
tsp ground cumin
6 tbsp olive oil, plus extra for greasing
4 sea bass, about 1.3kg/3lb in total, scaled and gutted
12 large bottled vine leaves, rinsed
sea salt and freshly ground black pepper
Couscous, to serve
lemon wedges, to serve
Method:
1- Preheat the oven to 190˚C/375˚F/Gas 5 and lightly grease a baking sheet with oil. Put the parsley, coriander/cilantro, dill, ginger, chilli, preserved lemon, garlic and cumin in a blender and pulse several times until you've made a rough paste, stopping to scrape the sides down as needed. Pour in 4 tablespoons of the oil and pulse once more to combine. Spoon the mixture into the fish cavities.
2- Season the sea bass with salt and pepper and rub with the remaining oil. Wrap each sea bass with 3 vine leaves, starting at the head and working all the way down, but leaving the tail exposed. Put the fish, seam-side down, on the baking sheet and bake for 20–25 minutes, depending on the size of the fish (the general rule is 7 minutes cooking time per 2.5cm/1in measured at the thickest part of the fish), until the fish is tender and cooked through. Serve with Couscous and lemon wedges.
Teta's Smokey Musaqa'a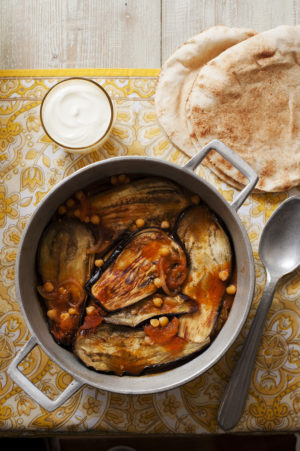 The word moussaka, applied to the famous Greek dish, doesn't actually have any meaning in the Greek language. Instead, it's thought the dish came to Greece by way of the Phoenicians and then took on French influences (hence the béchamel sauce). Meaning "cold" or "chilled" in Arabic, musaqa'a is a humble vegetarian stew that is best served at room temperature.
Serves: 4
Preparation time: 30 minutes, plus soaking the chickpeas (optional)
Cooking time: 1 hour 5 minutes, plus cooking the chickpeas until they are just tender (optional)
Ingredients:
1kg/2lb 4oz aubergines/eggplants
120ml/4fl oz/  cup olive oil
1kg/2lb 4oz beefsteak tomatoes
2 tbsp sunflower oil
1 onion, thinly sliced into rings
3 garlic cloves, crushed with the blade of a knife
125g/4 z/heaped  up dried chickpeas, soaked overnight and cooked until tender (see page 215), or 250g/9oz/heaped 1 cups canned chickpeas, drained and rinsed
tsp ground allspice
1 tbsp tomato purée/paste (optional)
sea salt and freshly ground black pepper
To serve
Greek yogurt
mint leaves (optional)
Arabic Bread (optional, see page 217)
Vermicelli Rice (optional, see page 215)
Method:
1- Preheat the oven to 200˚C/400˚C/Gas 6. Partially skin the aubergines/eggplants, leaving strips of skin about 2.5cm/1in wide, then cut them lengthways into 2cm/¾in slices. Brush the slices on both sides with
6 tablespoons of the olive oil (or more or less, as preferred) and place in a 20 x 15cm/8 x 6in baking dish, overlapping as necessary. Sprinkle with a little salt and bake in the oven for about 20 minutes or until soft. Alternatively, preheat the grill/broiler to medium-high and grill/broil the prepared slices for about 5 minutes on each side or until softened and lightly browned. Transfer to a plate and set aside.
2- Core the tomatoes and score the bottoms with a sharp knife. Put them in a heatproof bowl. Pour over enough boiling water to cover and leave for 1 minute, or until the skins begin to peel. Drain the tomatoes and plunge into cold water to stop them cooking, then peel off the skins and discard. Cut the tomatoes in half, scoop out and discard the seeds, then slice the tomatoes into 5mm/¼in thick slices.
3-Heat the sunflower oil in a heavy-based saucepan over a medium heat. Add the onion and garlic, then cover and sweat for 4–5 minutes, stirring often, until translucent. Add the tomato slices and chickpeas in layers, seasoning each layer with a pinch of allspice, salt and pepper. Cover with about 250ml/9fl oz/generous 1 cup water. If the tomatoes are not a rich red colour, then add the tomato purée/paste for more depth of flavour and colour. Cover the pan and bring to the boil, then reduce the heat to low and leave to simmer for 20 minutes.
4- Add the cooked aubergine/eggplant slices on top of the stew in layers, overlapping if necessary. Gently press them down just enough so that they are lightly covered by the tomato broth. Cover and cook for another 20 minutes. Remove from the heat, uncover and leave to cool down to room temperature. Serve with the yogurt and with mint for sprinkling, Arabic Bread and Vermicelli Rice, if you like.
Wild Orchid Ice Cream in Filo cups
Salep flour, which gives this ice cream its light and elastic consistency, is milled from the dried tubers of a species of wild orchid found in the Anatolian plateau. These tubers apparently resemble the testicles of a fox, and this gave the flour its name! It's widely thought to be an aphrodisiac.
Serves: 6
Preparation time: 40 minutes, plus freezing
Cooking time: 15 minutes
Ingredients:
700ml/24fl oz/2 cups whole milk
2 tsp salep flour or cornflour/cornstarch
tsp mastic powder or about
2 small mastic tears ground using
a pestle and mortar, or xanthan gum
175g/6oz/scant 1 cup caster/superfine sugar
1 tsp rosewater
2 tbsp roughly chopped shelled unsalted pistachios, plus extra for sprinkling
3 sheets of filo/phyllo pastry
40g/1 oz/3 tbsp butter
dried edible rose petals, to decorate (optional)
Method:
1- Pour 350ml/12fl oz/1½ cups of the milk into a small mixing bowl, add the salep flour and mastic powder and stir to dissolve.
2-Place a large pan over a medium heat, add the remaining milk and the sugar and whisk well to dissolve. Bring the mixture to the boil, then gradually pour the salep and milk mixture into the hot milk as you continue to whisk vigorously, gently simmering the mixture over a low heat for 5 minutes. Make sure the mixture does not rise up in the pan and then overflow.
3- Remove the pan from the heat and mix in the rosewater and pistachios. Transfer to a freezer-safe mixing bowl and leave to cool completely, then chill in the refrigerator.
4-Once the mixture has chilled, transfer to the freezer for 45 minutes, then remove and whisk well to break up all the ice crystals while incorporating as much air as possible to yield a creamier, fluffier end result. Return to the freezer for 30 minutes, then remove and repeat the process again, breaking up all the ice crystals that have developed. Repeat two or three more times until completely frozen. This should take about 8 hours. You may find that your whisk can no longer do the job as the ice cream hardens, in which case a spatula is a good substitute.
5-Preheat the oven to 180˚C/350˚F/Gas 4. Remove the sheets of pastry from their packaging and cover them with a damp dish towel.
6-Melt the butter in a small saucepan and lightly brush six cups of a muffin pan with some of it. Brush one pastry sheet with more melted butter, add another layer on top, brush that one with butter and then repeat with the final layer. Slice the stack into six 15 x 13cm/6 x 5in rectangles, then gently press these rectangles into the greased muffin pan so that they form cup shapes.
7-Bake in the oven for 6–8 minutes or until golden brown. Lift the pastry cups out of the pan and leave to cool. Fill each cup with a scoop of ice cream and sprinkle with pistachios and dried rose petals, if you like.
Bethany Kehdy
The Jewelled Kitchen
£14.99, available from Nourish Books
https://nourishbooks.com/wp-content/uploads/2016/08/Mussels_Arak-0004-2-1.jpg
1017
1000
Nourish
https://nourishbooks.com/wp-content/uploads/2018/04/NourishLogo340x156-300x138-300x138.png
Nourish
2016-08-09 15:08:41
2016-08-09 15:09:21
Bethany Kehdy's Favourite Summer Recipes