Beneath a light chocolate sponge studded with fresh raspberries lies an intense chocolate sauce. Perhaps surprisingly, this is a healthy dish, because it uses puréed apple and xylitol to give it a touch of sweetness.
Health Benefits
Polyphenols, in the cocoa powder, are known for their antioxidant properties. For a stronger antioxidant boost you can use high antioxidant cocoa powder, which is readily available. It has a slightly stronger, bitter taste, so use a little less in the recipe and increase the amount of xylitol slightly.
Cancer Fighting Recipes: Gooey Chocolate & Raspberry Pudding
Serves: 4
Preparation time: 10 minutes
Cooking time: 40 minutes
oil, for greasing
125g/4 ½oz/heaped ¾ cup wholemeal
plain flour or gluten-free flour mix
2 tsp baking powder
1 tbsp cocoa powder
1 tsp vanilla extract
125g/4 ½oz/scant ½ cup sugar-free apple puree
125ml/4fl oz/½ cup soya milk
1 tbsp xylitol
150g/5 ½oz/scant 1 ¼ cups raspberries,
plus extra to serve (optional)
Chocolate sauce
2 tbsp xylitol
1 heaped tbsp cocoa powder

1. Preheat the oven to 180c/350f/Gas 4 and lightly grease a 20cm/8in round baking dish. Sift the flour, baking powder and cocoa powder into a bowl, then tip in the bran.
2. Mix together the vanilla, apple puree, milk and xylitol, and beat into the flour mixture. Stir in the raspberries, then spoon into the baking dish.
3. Combine the sauce ingredients with 400ml/14fl oz/generous 1½ cups boiling water, and pour gently over the batter. Do not stir the liquid in – it will seep in as it cooks.
4. Carefully put the dish in the oven and bake for 35–40 minutes until the pudding is firm on top but with a gooey chocolate sauce underneath. Serve with extra raspberries, if you like. (Store leftovers in the fridge for up to 2 days.)
Nutritional Information per serving
Protein 5.4g | Carbohydrates 38.7g of which sugars 14.8g | Fat 2.2g of which of saturates 0.8g | Kcals 181
Looking for more recipes to help you through cancer treatment? Try this Wilted Kale Salad for a super-food boost of glucosinolates or help your immune system with protein, antioxidants, selenium and zinc, all locked in these delicious Japanese Lamb Burgers.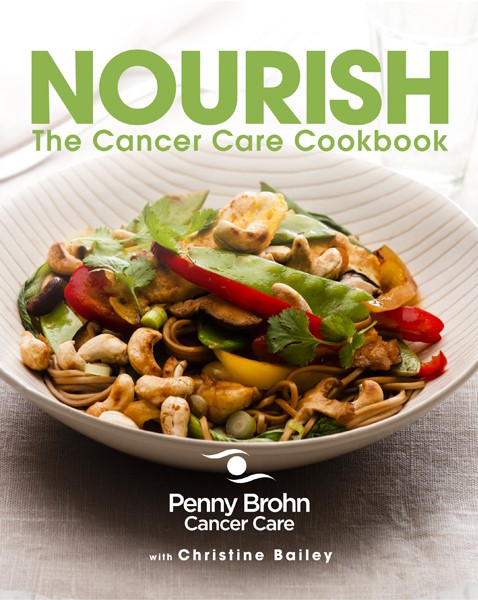 Nourish: The Cancer Care Cookbook embraces the holistic healthy living approach of Penny Brohn Cancer Care, combining nutritional advice with 7-day menu plans and healthy recipes design to help you, or someone you know, live with cancer.

Click here to order your copy with free UK postage
https://nourishbooks.com/wp-content/uploads/2014/04/recipes-for-cancer-patients-gooey-chocolate-pudding.jpg
300
340
Victoria Lagodinsky
https://nourishbooks.com/wp-content/uploads/2018/04/NourishLogo340x156-300x138-300x138.png
Victoria Lagodinsky
2014-05-02 00:00:52
2014-04-25 12:51:20
Cancer Fighting Recipes: Gooey Chocolate & Raspberry Pudding