This season of The Great British Bake Off might be over but (!) we're still feeling the ache to bake! Also, you know, who doesn't need cake on a Tuesday afternoon? We're going for this decadent Cardamom Custard Tart from crowd favourite Mowgli Street Food by Nisha Katona, it's one for the ages.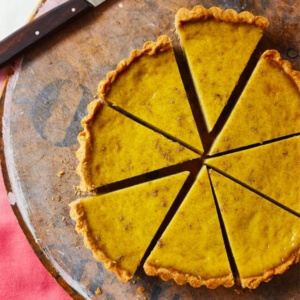 From Nisha: 'This is such a great variation on the comfort food of our grandmothers' generation. Cardamom works tremendously well in any dishes that are milk based; the aromatic oils in the spice seem to bring custards alive. The other spices you need to play with – omit or enhance as your taste demands – but it is the sprinkle of cardamom at the end that wakes the pudding up in eastern climes.'
Ingredients
For the pastry:
145g/5oz/generous ½ cup cold unsalted butter, cut into small cubes
250g/9oz/1⅔ cups plain/all-purpose flour
¼ tsp ground cloves
⅛ tsp ground ginger
¼ tsp ground cinnamon
¼ tsp nutmeg
110g/3¾oz/½ cup caster/granulated sugar
1 egg, beaten
1 tbsp full-cream/whole milk
For the custard:
250ml/9fl oz/1 cup double/heavy cream
250ml/9fl oz/1 cup full-cream/ whole milk
1 vanilla pod/bean, split
8 large egg yolks
100g/3½oz/scant ½ cup caster/granulated sugar
2 green cardamom pods, crushed
2.5cm/1 inch piece of fresh root ginger, peeled
1 whole nutmeg
1 clove
2 black peppercorns
1 small bay leaf
3 sprigs of fresh thyme
¼ tsp rosewater
⅛ tsp ground turmeric
1 tbsp ground cardamom, plus extra to sprinkle
Method
Start by making the pastry. Rub the cold butter into the flour and ground spices with your fingertips until it starts to resemble breadcrumbs. Add the sugar, egg and milk and gently bring together until it forms a smooth dough.
2  Lightly flour your work surface and roll the pastry out to a thickness of 3–4mm/⅛–¼ inch, then line a 20cm/8 inch tart pan, leaving about 3cm/11⁄4 inches of pastry overhanging the edge of the pan. Refrigerate for 30 minutes.
Preheat your oven to 180°C/350°F/gas 4. Take your pastry case out of the refrigerator, prick all over with a fork and line with baking parchment, then fill with baking beads. Blind bake for 20 minutes, then remove the baking beads and parchment and bake for a further 15 minutes or until it is golden brown. Remove from the oven and lower the temperature to 140°C/275°F/gas 1.
To make the custard, put the cream, milk and vanilla pod in a medium saucepan set over a medium heat and bring up to the boil. In a mixing bowl, beat the egg yolks with the sugar until pale white, then pour a little of the hot cream mixture over the egg yolks and mix well. Pour this back into the saucepan, then add the rest of the custard ingredients. Reduce the heat to low and cook, stirring continuously, for a further 5 minutes. Strain the custard into a pouring jug and skim off any froth or bubbles.
Carefully pour the custard into the case, then place the tart case on a shelf in the middle of your oven. Bake for 40–45 minutes or until just set – there should still be a slight wobble to the custard as it's removed from the oven.
Trim off the overhanging edges, then leave to cool completely. Finish with a sprinkle of ground cardamom just before serving.
Happy baking! Tag us (@NourishBooks, #NourishBooks) on social media, we'd love to see your creations.