Learn more about Asian food and celebrate the Chinese New Year with Lemongrass & Ginger by Leemei Tanvibrant, a book that includes a stunning collection of recipes inspired by China, Thailand, India & Sri Lanka, Vietnam & Cambodia, Japan & Korea, Malaysia & Singapore, the Phillipines, and Indonesia. Follow the recipe below if you want to try a delicious Cantonese steamed fish. In China, the whole fish symbolizes abundance, and steamed whole fish is a must during Chinese New Year, as it symbolizes a wish for abundance in the New Year.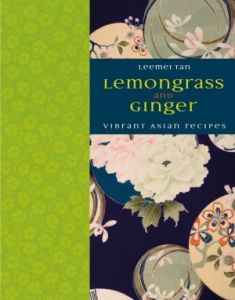 Winner of the World Gourmand Award for Best Blog Cookbook, Leemei Tan's debut book offers up vibrant, modern Asian food. Asian cooking combines wonderfully pungent, aromatic spices, herbs and flavourings with imaginative methods, a wide array of ingredients and tastes that explode in your mouth. For many people, though, these hugely enjoyable dishes seem too complicated to make at home. Leemei shows that this isn't the case, and that anyone can master the art of cooking Asian food.
Cantonese steamed fish
Steaming is one of the most important techniques used in Chinese cooking, and is a very healthy way to cook that retains the flavours of the food, too. A bamboo steamer is ideal, but if you want to steam larger items, such as whole fish, then a wok is handy. You can serve it with a bowl of steamed rice.

Serves: 4
Preparation time: 20 minutes, plus 45 minutes soaking and marinating time
Cooking time: 10 minutes
Ingredients:
1 x 800g/1lb 12oz whole red snapper, sea bream, sea bass or any other white-flesh fish, scaled and gutted by your fishmonger
1 tomato, sliced
1 tbsp light soy sauce
1 tbsp oyster sauce
1 tbsp sesame oil
2 tbsp Shaoxing rice wine
30g/1oz dried mushrooms, such as shiitake, porcini or Chinese mushrooms, soaked, drained and thinly sliced
1cm/½in piece of root ginger, peeled and cut into fine matchsticks
2 spring onions, cut into matchsticks
freshly ground black pepper
Method:
Rinse the fish inside and out under running cold water and pat dry with kitchen paper. Using a sharp knife, make three diagonal slits on both sides of the fish. Arrange the tomato on the base of a heatproof platter that will fit inside a wok. Lay the fish on top.
Mix together the soy sauce, oyster sauce, sesame oil and rice wine in a small bowl and season with pepper. Pour the sauce over the fish and sprinkle over the mushrooms and ginger. Cover with cling film  and leave to marinate in the fridge for about 20 minutes.
Place several round cookie cutters or a wire cooling rack with legs  at least 2.5cm/1in tall inside a wok. Leaving a minimum gap of 1cm/½in below the steamer, add water to the wok and bring to the boil over a medium-high heat. Set the heatproof plate with the fish on the rack and steam, covered, for 10 minutes, or until the flesh separates from the bone easily and looks opaque when a fork is inserted. Keep an eye on the level of the water, adding more boiling water if necessary. Two minutes before the end of cooking, sprinkle over the spring onions. Serve immediately with boiled rice.
Lemongrass & Ginger by Leemei Tan is available from Nourish Books, online and in the good stores.
Sign up for our newsletter to get our new articles straight to your inbox every month.