Kale juice recipes promise so much nutritionally, but rarely deliver on taste! Try this 'Lean Green' breakfast juice recipe from Crussh, though, and you can have something that tastes great and is good for you
'Lean Green is probably the tastiest juice you'll come across that's made with kale. Kale is packed so full of nutrients that we've always wanted to find a way to make it taste good in a juice. For us, the combination of the kiwi and pineapple balance out the metallic nature of the kale and spinach. This is a fantastic breakfast juice to get you going first thing in the morning.'

Lean Green Kale Juice Recipe
2 green apples, quartered and stems removed
1 handful of baby spinach leaves
1 handful of kale
1 pear, quartered and stem removed
2 pieces (about 2.5cm/1in cubes) peeled pineapple
1 kiwi, peeled and halved

1. Put all the ingredients through an electric juicer.
2. Stir the juices together and serve immediately.

Here's the healthy bit…

You'll find vitamins B1, B2, B6, C, beta-carotene, copper, magnesium, manganese, and potassium with plenty of vitamins B3, B5, B7, folic acid, calcium, and iron. Lean Green also contains vitamins E and K, zinc, flavonoids and iodine!
Crussh is the UK's fastest growing chain of juice bars. Avoiding additives, preservatives, GM foods, salt and sugar, they use the best natural and organic ingredients whenever possible. They have worked hard to perfect their recipes and now, for the first time, they are ready to share them. The book is divided into three chapters – 'Juices', 'Smoothies' and 'Boosters'.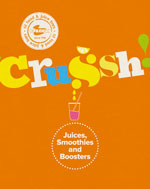 "Here they share their secrets for the very first time"
Crussh: Juices, Smoothies and Boosters
176 pages • Illustrated • £14.99
AUS $27.99 NZ $32.00
£7.99 l Buy the e-book now!