The delicious tahini dressing with a citrussy zing and the sweetness of basil lifts the flavours of griddled vegetables and makes a rich and satisfying lunch. The dressing also tastes good with falafels or as a dip.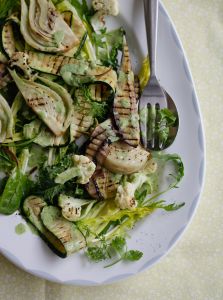 Serves: 4
Preparation: 30 minutes
Cooking: 40 minutes
Ingredients:
4 large courgettes, thinly sliced lengthways
2 aubergines, thinly sliced lengthways
1 fennel bulb, cut into quarters and thickly sliced
1 small head of cauliflower, thickly sliced
4 large portobello mushrooms, thinly sliced
1 tbsp olive oil or melted coconut oil
4 large handfuls of mixed salad leaves, such as dandelion, mint, parsley, coriander, mustard, beetroot greens, rocket and kale,
to serve
Tahini dressing:
60g/2¼oz/¼ cup tahini
250ml/9fl oz/1 cup orange juice
zest and juice of ½ lemon
2 garlic cloves, crushed
¼ tsp ground sea salt
1 small handful of basil leaves
Method:
Preheat the oven to 100°C/200°F/Gas ½ and put a plate inside to warm. Heat a large, ridged griddle over a medium- high heat.
Put all the vegetables in a large bowl and add the oil, then toss gently to coat the vegetables and tip into the griddle. You may need to cook these in batches. Spread the vegetables out evenly. Cook for 8–10 minutes until marked with golden lines on one side. Reduce the heat, if necessary, to avoid burning.
Meanwhile, make the dressing. Put all the ingredients into a blender or food processor, then process on high speed for 30 seconds, or until the dressing is smooth and creamy.
Leave to one side to allow the flavours to develop.
Turn the vegetables over and cook for 8 minutes, or until there are golden lines on the second side.
Transfer the cooked vegetables to the warm plate while you cook the remaining batches. Put the salad leaves on a large serving plate and put the cooked vegetables on top, then drizzle with the tahini dressing.
Serve immediately
Adele McConnell is the founder of the hugely successful vegan food blog, vegiehead.com, and was the winner of the prestigious 'Vegan Food Blogger Award' by The Vegan Woman 2012. She loves sharing her passion for vegan food. Watch her inspiring, easy-to-follow cookery demonstrations on her YouTube channel.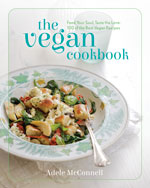 "Feed your soul, taste the love: 100 of the best vegan recipes"
The Vegan Cookbook by Adele McConnell