Make your Valentine a special fruity love smoothie. Also known as Orange & Strawberry Sunrise, this classic drink is made with banana to make it rich and creamy, and with the great taste of fresh strawberries and peaches. We can't guarantee it will ensure everlasting love but it will bring a smile to breakfast in bed!
Valentine's Orange & Strawberry Sunrise
4 oranges, halved
10 strawberries
1 banana
½ peach
1. Squeeze the juice from the oranges. (Alternatively, add 150ml/5fl oz/scant  cup orange juice instead of squeezing the oranges.)
2. Pour the juice into a blender or food processor, add all the remaining ingredients and blend until smooth and creamy. Serve immediately.
Crussh is the UK's fastest growing chain of juice bars. Avoiding additives, preservatives, GM foods, salt and sugar, they use the best natural and organic ingredients whenever possible. They have worked hard to perfect their recipes and now, for the first time, they are ready to share them. The book is divided into three chapters – 'Juices', 'Smoothies' and 'Boosters'.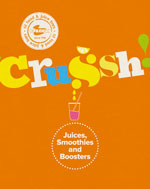 "Here they share their secrets for the very first time"
Crussh: Juices, Smoothies and Boosters
176 pages • Illustrated • £14.99
AUS $27.99 NZ $32.00
£7.99 l Buy the e-book now!