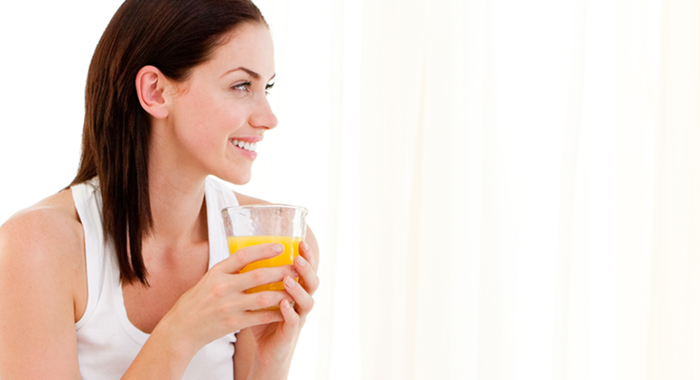 The Christmas season is not the easiest time to stay healthy. With endless parties, meals out and social gatherings how can you make sure you look your best? Look no further, try these juices for a pre-Christmas detox, to give you radiant skin, shining hair and more energy. Popular with models such as Rosie Huntington-Whiteley, and celebrities from Jennifer Aniston to Gwyneth Paltrow, juicing is the way to go. The best part is they are so easy; all you need is a few ingredients and a juicer, and – voilà – a delicious healthy treat. With the added bonus of vitamins and minerals for defence, you can avoid the December burn-out and lessen the effects of that inevitable Christmas cold.
So replace each of your meals with one of these juices for two days to feel and look amazing at your Christmas party.
Morning Berry Basic
2 large handfuls raspberries
2 apples
1 orange
1 teaspoon spirulina
This is a fruit-bowl classic with the addition of raspberries and some spirulina for an extra health kick. To avoid green lumps, shake the spirulina in a jar with a little of the juice before mixing it in with the rest.
Great for boosting your energy, detoxing your body and adding shine to your skin.
Orange Winter Crumble
2 oranges
2 apples
1 handful blackberries
A festive treat, this blend of orange juice with the traditional winter mixture of apple and blackberry used in pies and crumbles.
Great for boosting your energy and immunity and for adding shine to your skin.
Green Pines
1/2 pineapple
3 sticks celery
1 large handful watercress
This is a very cleansing juice with rich, peppery undertones supplied by the watercress.
A great all rounder this juice will improve your energy, immunity, digestion and your skin, as well as giving you great detox results.
Beet Basic
2 beets (beetroot)
2 carrots
1 apple
1 orange
1 stick celery
1/2 inch (1cm) ginger root
A supreme energy-lifting, cleansing and immunity-boosting blend.
If you want to get more out of your juices, then try the Big Book of Juices and Smoothies for 365 delicious, health-optimizing recipes or download our Juices app from iTunes