Gluten-free Chia Seed & Coconut Pancake recipe (and it's vegan too!)
A perfect recipe for a gluten-free pancake day
So you're looking for a gluten-free pancake recipe and it would be really, really good if it was vegan too? Hurrah! – you've just hit the jackpot with this delicious recipe from Adele McConnell's new book, The Vegan Cookbook.

Gluten-free Chia Seed & Coconut Pancakes
Serves: 4
Preparation time: 30 minutes, plus 10 minutes soaking, plus making the spread
Cooking time: 20 minutes

½ tsp chia seeds
190g/6¾oz/1½ cups buckwheat flour
2 tsp gluten-free baking powder
875ml/30fl oz/3½ cups coconut milk
175g/6oz/½ cup Fruit & Pumpkin Spread (below), plus extra to serve
2 tbsp olive oil, safflower oil or coconut oil, plus extra if needed
desiccated coconut, berries, and agave syrup or brown rice syrup (optional), to serve

Fruit & Pumpkin Spread

Makes about 1kg/2lb 4oz/3 cups
Preparation time: 20 minutes
Cooking time: 1 hour 10 minutes

6 apricots or 3 peaches, cut in half and pitted
300g/10½oz pumpkin or butternut squash, peeled and cut into cubes
4 large pears or apples, peeled, cored and cut into dice
180g/6¼oz/1 cup brown sugar or coconut sugar
1 tsp ground cinnamon
½ tsp ground cardamom
½ tsp ground ginger
½ tsp ground allspice

1. Put all the ingredients in a large, heavy-based saucepan and add 185ml/6fl oz/¾ cup water, then combine well.
2. Bring to the boil over a medium heat, then reduce the heat to low and simmer for 1 hour, stirring frequently, or until the pumpkin and fruit are soft. Add extra water if the mixture starts to catch on the base of the pan. Pour the mixture into a blender or food processor and blend until smooth. Serve or cool and store in a covered container in the fridge for up to 7 days.
To make the pancakes
1. Preheat the oven to 100°C/200°F/Gas½ and put a heatproof plate inside to warm. Put the chia seeds in a small bowl and add 3 tablespoons water. Leave to soak for 10 minutes to form a gel.
2. Sift the buckwheat flour and baking powder into a large mixing bowl and mix well.
3. In a separate bowl, whisk together the chia seed gel, coconut milk and the fruit spread. Add to the dry ingredients and stir gently to form a thick batter.
4. Heat 1½ teaspoons of the oil in a heavy-based frying pan over a medium heat. Pour 3-4 tablespoonfuls of batter into the pan, tilting the pan to cover the base of the pan with the mixture. Cook for 2–3 minutes on each side until lightly browned.
5. Repeat with the remaining batter, adding another 1½ teaspoons oil to the pan before cooking each one. Transfer the pancakes to the warmed plate, stacking them between sheets of baking parchment to prevent them from sticking together, and keep warm in the oven. Serve hot with a selection of fruity toppings.
Adele McConnell is the founder of the hugely successful vegan food blog, vegiehead.com, and was the winner of the prestigious 'Vegan Food Blogger Award' by The Vegan Woman 2012. She loves sharing her passion for vegan food. Watch her inspiring, easy-to-follow cookery demonstrations on her YouTube channel.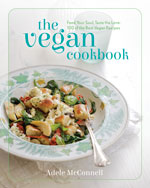 "Feed your soul, taste the love: 100 of the best vegan recipes"
The Vegan Cookbook by Adele McConnell
176 pages • Illustrated • £14.99
AUS $28.00 NZ $35.00
https://nourishbooks.com/wp-content/uploads/2014/03/gluten-free-pancake-recipe-from-adele-mcconnell.jpg
300
344
Victoria Lagodinsky
https://nourishbooks.com/wp-content/uploads/2018/04/NourishLogo340x156-300x138-300x138.png
Victoria Lagodinsky
2014-03-04 00:00:30
2014-03-03 11:56:19
Gluten-free Chia Seed & Coconut Pancake recipe (and it's vegan too!)