Grilled chilli pineapple with mint & yogurt recipe (100% vegan!)
A delicious vegan recipe from Adele McConnell

"The part of the meal I look forward to the most is desserts!" says Adele McConnell author of The Vegan Cookbook. "I love making them too, not just for the burst of sweetness but for the chance to experiment with new flavours and techniques. In my new book I've made traditional desserts with a fresh twist, and healthier versions of time-honoured favourites. In this recipe adding hot chilli to slices of sweet, grilled pineapple creates a flavour combination you just have to try!"

Grilled chilli pineapple with mint & yoghurt recipe
Serves: 4
Preparation time: 15 minutes
Cooking time: 15 minutes
1 large pineapple
2 tbsp brown sugar or coconut sugar
½ hot red chilli, such as bird's eye, deseeded and finely chopped
1 tsp ground cinnamon
1 tbsp safflower oil, sunflower oil or coconut oil
a few small mint leaves
250ml/9fl oz/1 cup dairy-free coconut yoghurt

1. Cut the top and bottom off the pineapple and stand it up on a chopping board. Slice off the skin, cutting downwards from top to bottom. Carefully cut out any pieces of skin left on the fruit. Cut the pineapple in half lengthways and then in half again, then slice off the woody core so that you are left with the soft fruit. Slice each quarter in half lengthways.
2. Put the sugar, chilli and cinnamon in a small saucepan over a medium-low heat, and heat through to dissolve the sugar.
3. Heat a large, ridged griddle over a medium-high heat. Brush both sides of the pineapple with the oil and cook the pineapple in the griddle for 5-6 minutes, turning once, until it is warmed through and is marked with golden lines. You may have to do this in batches. Remove from the griddle and keep warm.
4. Meanwhile, increase the heat under the saucepan to medium-high to lightly caramelize the sugar. Transfer the pineapple to serving plates, pour the sauce over the top and scatter over the mint leaves. Serve with the yoghurt.
Adele McConnell is the founder of the hugely successful vegan food blog, vegiehead.com, and was the winner of the prestigious 'Vegan Food Blogger Award' by The Vegan Woman 2012. She loves sharing her passion for vegan food. Watch her inspiring, easy-to-follow cookery demonstrations on her YouTube channel.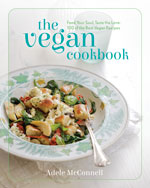 "Feed your soul, taste the love: 100 of the best vegan recipes"
The Vegan Cookbook by Adele McConnell
176 pages • Illustrated • £14.99
AUS $28.00 NZ $35.00