We all know that certain hormones can make us happy, but did you also know they can help you lose weight? By paying attention to the natural hormones in our body, you can to shed excess weight easily, keep it off for good, and feel happy and energetic at the same time! Lowri Turner, author of the S Factor Diet, shows you the science behind this revolutionary diet. And you can try her delicious guilt-free crumble and ice cream recipe this weekend.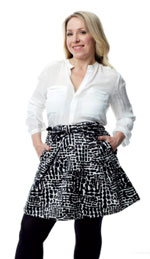 "Diets don't work, right? Old-fashioned ones certainly don't. They make us feel depressed,  lethargic and, when our weight shoots back up again afterwards, fat!" says broadcaster and journalist turned nutritionist, Lowri Turner.
"Now you can say goodbye to those awful negative feelings. The S Factor diet tackles the cause of overeating and cravings. It's specifically designed to make you feel good about yourself, so you can forget the "diet blues" and feel motivated to eat well and exercise", explains Lowri.
She believes that overeating can be a physiological attempt to correct imbalances in what she calls the S Factor hormones – natural chemicals we're all supposed to produce in abundance, but which some of us don't. When we're low on these hormones, we feel low, and we try to boost our mood with unhealthy foods.
S Factor hormones control how hungry you feel and how satisfied you are after eating.
Serotonin: The "Good-Mood" Hormone. Good levels of serotonin make us feel calm, contented and cravings-free. Low serotonin affects sleep, makes us feel depressed and turns us into chocoholics.
Dopamine: The "High-Motivation" Hormone. Dopamine is a chemical released in our brains in response to a reward or treat. Low dopamine weakens our resolve when the office feeder proffers cupcakes, and makes walking past the chocolate display in the petrol station a nightmare.
Leptin: The "I'm-Not-Hungry" Hormone. Leptin tells our brain when we have enough body fat and then reduces our appetite and speeds up our metabolism to burn off any excess. That's what it's supposed to do, but as you become overweight, it stops working properly, so you feel fat and hungry.
Adrenals: The "Stress" Hormones. This group of hormones, including adrenaline and cortisol, is pumped out by the adrenal glands. The right amount of adrenal hormones gives us energy. Too much and we become tired, wired fridge-raiders.
"From a lot of complicated science, my simple message is this: you can lose weight if you get your S Factor hormones working properly", says Lowri.
Apple & Blueberry Crumble with Vanilla Tofu Ice Cream
Let's get the "Tofu! Yuck!" reaction out of the way. Making ice cream from tofu slashes the fat content. You can't taste the tofu and instead you get the delicious flavour of the natural vanilla. This is a sorbet-style ice cream so don't let it freeze too hard.
Serves 6
Preparation time 30 minutes, plus at least 1 hour infusing and at least 1 hour freezing
Cooking time 30 minutes
For the ice cream
250ml/9fl oz/1 cup skimmed milk or soya milk
100g/3½oz/½ cup stevia-based natural sweetener or xylitol
1 vanilla pod, split lengthways
300g/10½oz silken tofu
For the crumble
3 cooking apples
2 tbsp agave syrup
250g/9oz/scant 1⅔ cups fresh blueberries
100g/3½oz/1 cup rolled oats
2 tbsp stevia-based natural sweetener or xylitol
A pinch of ground cinnamon
25g/1oz cold butter, diced
1. To make the ice cream, put the milk, natural sweetener and vanilla pod in a saucepan and heat over a low heat for 3 minutes until the natural sweetener has dissolved. Remove the pan from the heat and leave to stand for at least 1 hour to allow the vanilla flavour to infuse into the milk.
2. Strain the mixture into a blender or food processor, discarding the vanilla pod. Add the tofu and process until smooth. Pour the mixture into an ice cream maker and process according to the manufacturer's instructions. Alternatively, transfer the mixture to a freezer-proof container, cover with a lid and freeze for 1–2 hours until completely frozen.
3. Meanwhile, make the crumble. Preheat the oven to 200°C/400°F/Gas 6. Peel, core and chop the apples. Put the apples and agave syrup in a saucepan and simmer over a medium-low heat for 5 minutes until the apples have softened. Remove the pan from the heat and gently stir in the blueberries. Pour the mixture into a baking dish.
4. Put the oats in a food processor and process until they resemble coarse breadcrumbs. Transfer to a bowl, add the natural sweetener and cinnamon and rub in the butter with your fingertips. Evenly sprinkle the crumble mixture over the top of the fruit and bake for 15–20 minutes until golden. Divide the crumble into 6 equal portions. Serve hot with a scoop of the ice cream.
With over 70 recipes to help balance your hormones naturally, Lowri Turner shows you how to shed excess weight easily and keep it off for good.
"Drop a dress size in 2 weeks"
The S Factor Diet by Lowri Turner
160 pages • Illustrated • £10.99
AUS $22.99NZ $28.00