by Nicola Graimes
Traditionally a way of preserving vegetables to extend their shelf life as well as add flavour before the days of refrigeration, most cultures have their own version of pickled and fermented foods. What's most interesting is that they are currently experiencing a revival in popularity, partly due to a renaissance in the back-to-basics approach in the kitchen but also because of their numerous health benefits, particularly supporting the immune system and aiding digestion.
Fermented foods such as the Wild Sauerkraut, below, are made by adding salt to vegetables to stop them going off, while leaving them at room temperature to allow the natural bacteria and wild yeasts found in the environment and the cabbage leaves to preserve them. This esults in the vegetables developing a softer texture and a mildly acidic flavour. Pickles on the other hand rely on a combination of salt and vinegar as a preservative and tend to have a more piquant flavour.
The technique for making both pickles and ferments is quite straightforward, but the end result requires a certain amount of patience as it can take weeks before they are ready to eat. Bearing this in mind, here are a few speedy 'cheats' versions, when time won't wait.
Wild sauerkraut
This basic recipe for sauerkraut can easily be adapted with the addition of spices, such as fennel seeds, caraway seeds, chilli and ginger, or by adding other vegetables, including kohlrabi, radish or kale.
Put 750g/1lb 10oz shredded green cabbage, 2 grated carrots and 2 grated turnips in a large mixing bowl. Stir in 4 tsp fine sea salt with 5 crushed peppercorns and 2 tsp crushed coriander seeds.
With clean hands, turn and lightly squeeze the vegetables for 5 minutes until they start to soften and release their liquid. Leave to stand for 10 minutes.
Spoon into a sterilized glass mason or kilner jar, pressing the vegetables down firmly with the end of a rolling pin as you go to make sure they are tightly packed and until the level of the squeezed liquid is above the vegetables. Put a glass or smaller jar, inside the mason jar and weight it down to keep the vegetables submerged. Cover with a clean dish towel and secure with a rubber band to let the sauerkraut breathe. Leave at room temperature for 5–14 days, checking daily to make sure the vegetables are submerged, pushing them down if needed and removing any scum that forms on the top. Taste and when happy with the flavour, secure the lid and transfer to the refrigerator. It will keep for up to 6 months chilled.
Easy kimchi
For a speedy version of kimchi, the famous and increasingly popular Korean fermented pickle, mix together a thinly sliced 2.5cm/1 in piece of fresh root ginger, 1 shredded carrot, 1 handful of shredded Chinese leaves, 2 shredded spring onions/scallions, 1 diced red chilli and 2 tbsp toasted sesame seeds  with 4 tbsp rice vinegar, 4 tsp caster/granulated sugar and ½ tsp salt.
Stir well and leave at room temperature for 30 minutes to allow the flavours to combine and develop. Transfer to a bowl to serve straightaway or to an airtight container and store in the refrigerator for up to 1 week.
Pickled ginger
Liven up sushi, rice and noodle dishes with this simple recipe for pickled ginger, which, unlike most shop-bought alternatives, is natural coloured, rather than
artificial pink. Mix together 4 tbsp rice vinegar and 2 tbsp caster/granulated sugar in a shallow bowl until the sugar dissolves. Add a 5cm/2in piece of fresh root ginger, peeled and cut into paper-thin slices, and turn until coated.
Leave the ginger for about 30 minutes to steep, or until softened. The ginger is ready to eat but can be kept in an airtight container in the refrigerator for up to 2 weeks.
Cheat's preserved lemons
Usually preserved lemons can take weeks to ferment, but this quick and easy version makes a surprisingly good alternative to the real thing. Simply, pare the zest of 2 large lemons into strips using a vegetable peeler and put them in a small pan. Squeeze in the juice of 2 large lemons and stir in ½ tsp sea salt.
Set the pan over a low heat and simmer for 8– 10 minutes, or until the skin is very tender and has darkened slightly in colour. Transfer to a bowl to serve straightaway or spoon into an airtight container and store in the refrigerator for up to 1 week.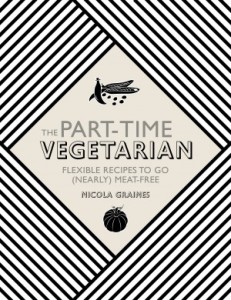 Nicola Graimes
The Part-Time Vegetarian
Available from September 2015