From Crussh: Juices, Smoothies and Boosters.
You've made it through Monday, but if it all felt a bit much, give yourself a head-start on the rest of the week with one of these seriously high-powered juices. They are brimming with those fabulous nutrients that you need to keep your body fit and your brain sparking, plus targeted booster ingredients. The gingseng powder in the Copacabana Super Stamina is great for supporting the immune system, while the spirulina in the Gingered Roots and Spirulina is loaded with anti-ageing properties.
Copacabana Super Stamina
We may not all be able to go to Rio, but we can all imagine lazing in the sun on that fabulous beach. And what better way to stimulate the imagination than this smoothie. Let it help you reduce stress, flush out toxins and boost your energy levels.
Serves: 1
Preparation time: 5 minutes

150ml/5fl oz/scant ⅔ cup soya milk
½ banana
125ml/4fl oz/½ cup low-fat yogurt, frozen overnight, or low-fat yogurt plus 4 ice cubes
75g/2½oz/½ cup cherries, pitted
50g/1¾oz frozen acai pulp
1 tsp ginseng powder
1. Put all the ingredients, including the ginseng powder booster, in a blender or food processor and blend until smooth and creamy. Serve immediately.
Gingered Roots & Spirulina

Packed with essential amino acids, the spirulina in this refreshing juice is a complete protein and a great source of B vitamins, so especially useful for vegetarians. It is derived from kelp and available in powdered form.

Serves: 1
Preparation time: 5 minutes

1 beetroot, cut into chunks
2 thin slices root ginger
8 carrots, tops removed
1 tsp spirulina powder
1. Put the beetroot, ginger and carrots through an electric juicer. Stir the juices together with the spirulina powder booster and serve immediately.
Crussh is the UK's fastest growing chain of juice bars. Avoiding additives, preservatives, GM foods, salt and sugar, they use the best natural and organic ingredients whenever possible. They have worked hard to perfect their recipes and now, for the first time, they are ready to share them. The book is divided into three chapters – 'Juices', 'Smoothies' and 'Boosters'.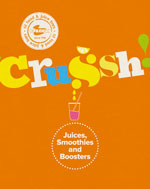 "Here they share their secrets for the very first time"
Crussh: Juices, Smoothies and Boosters
176 pages • Illustrated • £14.99 l Buy the book now!
AUS $27.99 NZ $32.00
£7.99 l Buy the e-book now!
https://nourishbooks.com/wp-content/uploads/2014/09/Copacabana_Spirulina_preview.jpg
300
340
Victoria Lagodinsky
https://nourishbooks.com/wp-content/uploads/2018/04/NourishLogo340x156-300x138-300x138.png
Victoria Lagodinsky
2014-09-29 16:05:41
2014-09-29 16:05:41
Mighty Monday boosters – super-smoothies to kick-start your week