From Adele McConnell's The Vegan Cookbook.

To continue our celebration of World Vegan Month, this week we are sharing a recipe for delicious vegan Potato and Coconut Samosas from Adele McConnell's The Vegan Cookbook. They make a lovely and satisfying snack, and are great served with the tomato relish from last week's Sweet Potato Hash recipe.
Potato and Coconut Samosas
Makes: 16
Preparation time: 20 minutes, plus cooling
Cooking time: 30 minutes

100g/3½oz/⅔ cup cashew nuts
1 tbsp olive oil or coconut oil
½ onion, finely sliced
2cm/¾in piece fresh root ginger, peeled and grated
3 medium potatoes, finely chopped
½ tsp ground cumin
½ tsp ground coriander
30g/1oz/¼ cup desiccated coconut
3 tbsp coconut cream
4 tbsp chopped coriander leaves
8 sheets of vegan filo pastry, defrosted if frozen
olive oil, for brushing
sea salt and freshly ground black pepper
tomato relish, hummus or dairy-free yogurt with mint to serve

1. Preheat the oven to 180°C/350°F/Gas 4 and line a baking sheet with baking parchment. Put the cashew nuts into a blender or food processor and grind into a powder. Leave to one side.
2. Heat the oil in a large non-stick frying pan over a medium heat, add the onion, ginger and potatoes, and cook for 10 minutes, stirring constantly, or until tender.
3. Stir in the cumin, ground coriander, cashew nuts, desiccated coconut, coconut cream and coriander leaves, then cook for a further 5 minutes. Season with salt and pepper, then leave to one side to cool.
4. Lay the filo pastry sheets on a clean surface, and brush lightly with the oil. Lay one filo sheet on top of another and repeat with the remaining sheets to make 4 piles of double-layered filo. Cut each pile into four. Put 4 tablespoonfuls of the mixture into the centre of each square, then brush the edges of the pastry with water.
5. Fold each square into a triangle, then use your fingers to press the edges together. Transfer to the prepared baking sheet. Brush lightly with oil, and bake for 15 minutes, or until golden. Serve with your chosen accompaniment.
Adele McConnell is the founder of the hugely successful vegan food blog, vegiehead.com, and was the winner of the prestigious 'Vegan Food Blogger Award' by The Vegan Woman 2012. She loves sharing her passion for vegan food. Watch her inspiring, easy-to-follow cookery demonstrations on her YouTube channel.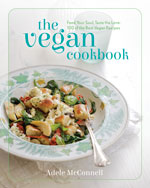 "Feed your soul, taste the love: 100 of the best vegan recipes"
The Vegan Cookbook by Adele McConnell