A cross between the English crumpet and American pancake, the pikelet is thought to have originated in Wales. You need to plan ahead when making pikelets as the yeast requires time to do its thing, so these are best served for brunch (or indeed for tea). Nicola Graimes's recipe from The Part-Time Vegetarian includes a warming pear compote flavoured with ginger and cloves, but they could also be served topped with a few rashers of crisp bacon and a drizzle of maple syrup.
Serves: 4
Preparation time: 15 minutes, plus rising
Cooking time: 16 minutes
Ingredients:
Pikelets
225g/8oz/ 1 ¾ cups plain/all-purpose flour, preferably spelt
1 tsp instant dried yeast
2 tsp caster/ granulated sugar
1 large egg
270 ml/ 9 ½ fl oz/ scant 1 ¼ cups milk
½ tsp salt
sunflower oil, for frying
Greek yogurt, to serve
Pear and ginger compot:
3 just-ripe pears, peeled, cored and cut into bite-size cubes
finely grated zest and juice of 1 orange
1 cm/ ½in piece of fresh root ginger, peeled and finely chopped
6 cloves
40g/ 1 ½oz/ 1/3 cup sultanas/ golden raisins
1-2 tbsp clear honey
Method:
To make the pikelets, mix together the flour, yeast and sugar in a large mixing bowl until combined, then make a well in the middle.
Whisk the egg into the milk. Pour the mixture into the well and gradually draw in the flour, whisking to make a smooth batter. Cover the bowl with cling film/ plastic wrap and leave for 2 hours in a warm place until bubbly and risen. Stir in the salt just before cooking, otherwise it will inhibit the yeast.
Meanwhile, to make the compote, put the pears, orange juice, ginger and cloves in a saucepan over a high heat and bring to the boil, then turn the heat down and stir in the orange zest and sultanas/ golden raisins. Cover the pan and simmer for 5-8 minutes, or until the pears are just tender but not falling apart. Stir in enough honey to sweeten.
Heat a little oil in a large non-stick frying pan over a medium heat and wipe it over the base using a crumpled up sheet of paper towel. Place a small ladleful (about 3 tablespoons) of the batter into the pan, then repeat to cook 4 pikelets at a time. Cook for 2 minutes on each side, or until risen and golden. Keep warm wrapped in a cloth or low oven while you make the remaining pikelets.
Serve the pikelets with pear and ginger compote and with yogurt on the side.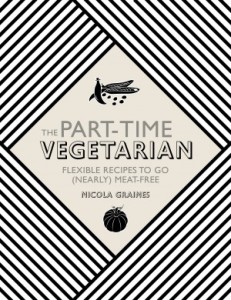 Nicola Graimes
The Part-Time Vegetarian
£20.00, available from Nourish Books
Sign up for our newsletter to get our new articles straight to your inbox every month.