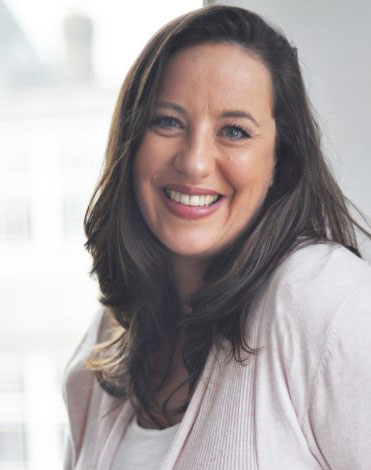 Grace Cheetham is an unashamed foodie who suffers from gluten, wheat and dairy intolerance, which is probably why she is so passionate about allergy-free eating. Her latest book, Simply Gluten-free and Dairy-free shows you how easy it is to make great food for an allergy diet.
To mark #AllergyAwarenessWeek, Grace has kindly taken the time to answer 6 questions from us about what inspires her to get in the kitchen and cook!

First thing's first – you've been exiled to a desert island. What ONE cookery book would you take with you?
Nigella's How To Eat. I love the way she writes about food.

What inspired you to get into cooking?
I grew up with a family of foodies. We used to buy local meat and fish, we would walk to the farm to get eggs, we grew our own vegetables and fruit, and my mother cooked everything from scratch. Cooking was normal for us – and the way to eat lovely food.

What style of cuisine inspires you most?
My mother cooked British food, with an emphasis on great ingredients cooked well. Her father had owned a bakery and her grandfather had owned a butcher's. And I often fall back on that style of cooking. But I also love other cuisines, especially Italian food and Asian food. I lived for a while in Sydney and loved the fusion-style cooking there.

What's your ideal comfort food?
Chocolate Fondant. In fact, anything chocolate. My husband proposed over a chocolate fondant – it was a lovely moment!
(Here's Grace's gluten and dairy free chocolate fondant recipe – marriage proposals optional)

What ingredient can't you live without?
Fruit and veg. Seriously. I lived for a few months in Paris in my gap year after school, working as an au pair on a really low wage. I couldn't afford to buy fresh fruit and vegetables and I used to dream about my mum's veggie garden!

Finally, what's your number one tip for people trying to cook gluten-free food?
Gluten-free grains and flours generally need more liquid than wheat versions. So add more sauce/liquid when you're making pasta, add a lot more water when you're making bread, and use less flour for pastry, cakes, biscuits and so on…




Thanks Grace! This week is Allergy Awareness Week, and Grace is appearing on Waitrose TV with some of her best allergy sensitive recipes. Take a look at her video recipe foolproof gluten-free seeded white bread, and learn to make a delicious loaf that doesn't require kneading or proving.
If you're looking for more gluten-free recipes, try Grace's Best Gluten-free Pizza Recipe, or follow Grace on Twitter for the latest tips – @glutenfreegrace

https://nourishbooks.com/wp-content/uploads/2014/05/Gluten-free-cookbook-author-Grace-Cheetham.jpg
300
340
Victoria Lagodinsky
https://nourishbooks.com/wp-content/uploads/2018/04/NourishLogo340x156-300x138-300x138.png
Victoria Lagodinsky
2014-05-01 00:00:09
2014-05-02 16:26:05
Q&A with gluten-free Grace