Have you been diagnosed with a gluten, wheat or dairy intolerance? Being told you can't eat a wide range of foods can be hard to take. But with a few tricks you can eat delicious and inspiring food each day on a gluten-free, diary-free or wheat-free diet.
Grace Cheetham, author of The Best Gluten-Free, Wheat-Free & Dairy Free Recipes, and a sufferer of food intolerance herself, has written this quick guide to allergy diets to help make the transition into your new diet an exciting culinary journey.

Being diagnosed with food intolerance
When I was first diagnosed with an intolerance to gluten, wheat and dairy, I was devastated. I remember my father took me to a café after I had seen the doctor, and we stared at the menu in complete confusion. I couldn't have any of the breads, cakes or biscuits or any of my favourite drinks. In the end I ordered a glass of apple juice and sat there miserably. And for a long time my culinary experiences were like this – a mixture of bewilderment and despair. Gradually, I became used to going without, although my diet was bland, boring and very restricted.
But over the years I started to experiment with cooking, learning to make meals that were naturally gluten-, wheat- and dairy-free, and I worked out ones that I could not only eat at home but also take with me for the day, if necessary. I also started to try out different products from health-food stores, delicatessens and supermarkets: dairy-free milks, margarines and cheeses, different flours and grains, and new flavourings or sauces. Eating became less of the flavourless rice cakes and more of the delicious breads, pizzas, biscuits, cakes and desserts that I learnt to create.
I discovered that there is a range of recipes using alternative ingredients instead of gluten, wheat or dairy, as well as recipes that are naturally free of these ingredients. I realised that you could have delicious and exciting things on your plate, and still follow an allergy diet. One day, for example, you could eat Blueberry and Banana Muffins for breakfast, nibble on Apricot, Mango and Coconut Bars and have a blow-out lunch with Duck with Cherry and Juniper Sauce or Gnocchi with Mushroom and Pancetta Sauce.
I put the best of these recipes into my book The Best Gluten-Free, Wheat-Free & Dairy Free Recipes, in the hope that you will find many that you love
Flourless chocolate cake – a great dessert for an allergy diet
Following a gluten-free, wheat-free or dairy-free diet
Getting your head around and following a restrictive diet is hard. It can seem so very tiring, monotonous and isolating. At first, the idea of having to prepare every single meal yourself feels utterly daunting. You long to be able to pick up a take-away pizza or a sandwich from a deli and to share your family's or friends' food.
But the benefits of sticking to your diet are so great that they do make it all worthwhile. I wrote best gluten and simply gluten in the hope that I can help make it easy for you. I made all the recipes simple to follow and use. Many of them can be cooked in under half an hour – and some can be pulled together in minutes. Don't be alarmed by the prospect of making sushi, pizza or bread, because you'll find that they're all remarkably do-able, and I've often included short-cut methods, including using a food processor method for whizzing together pastry, cakes or desserts.
All the ingredients are easy to obtain, and you won't need a vast array of kitchen equipment to make delicious gluten-free, diary-free and wheat-free food, or great culinary expertise. What's more, these are delicious recipes that you can share with your family or friends – from normal, everyday lunches to smart dinners and extravagant meals for special occasions.

Benefits of a gluten-free, diary-free and wheat-free diet
One of the great benefits of following a diet such as this is that you are likely to eat far more healthily. By taking gluten, wheat and dairy out of your diet, you will be forced to abandon much of the junk food available and to eat fresher, purer, more nutritious produce, which can only be a good thing. When your body reacts to the foods to which it is allergic or intolerant, it can go into defence mode, and can cause a range of symptoms including nausea, vomiting, headaches, migraines, rashes, eczema, asthma attacks, anaphylactic shock, bloating, bowel problems, chronic fatigue and depression. Your body can then counteract by producing extra adrenaline to fight the reaction and, in doing so, compromises your immune system.
So, apart from avoiding the problem foods, the best thing you can do for your body is to build up your reserves of vitamins, minerals and other essential nutrients, and generally support your immune system as much as possible.
While you can buy a good variety of foods specially adapted for this kind of diet, they often contain additives and preservatives, which can be damaging, and often have very little nutritional value. By cooking the meals at home, you can not only make a positive effect on your health and well-being by following your diet properly but also benefit greatly from the nutritional excellence of healthy home-cooking.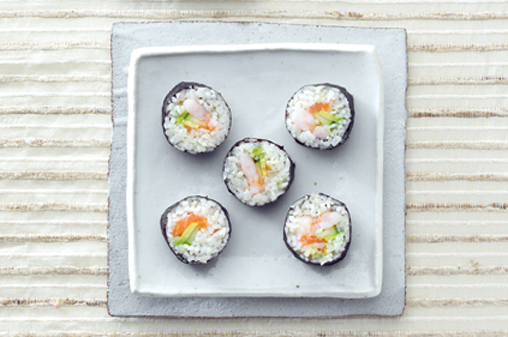 Try homemade sushi – it's simple and fun to do!
The allergy diet store cupboard
There is now a fantastic selection of dairy-free products available. I've used soya milk in my recipes and highly recommend the fresh, sugar-free versions as they taste much better than the longlife kinds and last for a considerable amount of time in the fridge. If you like, you could always use goats' or sheep's milk instead (if you can tolerate them) or rice milk, or any of the nut milks otherwise. Soya yogurt and soya cheeses are great substitutes (again, you could substitute goats' or sheep's) and tofu and soya margarines, which you could substitute with any of the dairy-free olive oil spreads.
I'd also advise using fruit sugar, or fructose, which is basically unrefined sugar from fruit. This is a great alternative to normal refined sugar as it has a GI level five times lower than sucrose. You can also use date syrup as it also has a low GI score and contains valuable nutrients, as well as a rich flavour.
It's well worth stocking up on dried fruits, and nuts and seeds as they can make all the difference to a recipe, as well as being great snack foods. Almonds and coconuts, in particular, are gems: they are packed with nutrients and utterly delicious, but are also great to bake with and to use in various forms to add a rich, intense flavour.
Stock up, too, on extracts, spices and other flavourings, such as tamari (a wheat-free soy sauce) and gluten-, yeast- and dairy-free stock powder. Pulses and beans are also fantastically useful: they can add inexpensive, comforting substance to any recipe, and are a great source of protein and fibre, as well as being low GI. Try haricot beans, butter beans, Puy lentils, chickpeas – the list goes on and on. Finally, fill your cupboards with polenta, rices (basmati, risotto and whole-grain, in particular), rice paper sheets and noodles, gluten-free and wheat-free pastas and noodles, and different types of flakes such as rice, buckwheat, amaranth and quinoa, and you'll have the base for all types of meals.
It is vital that you avoid the added chemicals in non-organic food, particularly meat and fish, and eating organic food also enables you to eat more in tune with the seasons, bringing you nearer to the natural state of food that enriches our bodies. Try to eat as many salads, steamed and raw vegetables and fruit as possible, as these will support your immune system immensely. Also try to make additives and preservatives (which can have unpleasant side effects) a thing of the past and drink lots of clean, pure water.
So get creative – you'll soon find that an allergy diet is no barrier to great tasting food!
We posed 6 questions to Grace about what inspires her to cook – take a look at the Q&A with gluten-free Grace where Grace discusses her favourite cookbook, the ingredients she can't live without, and marriage proposals over chocolate fondant.

'Packed full of easy, delicious recipes all your family will love.' Annabel Karmel
Eat delicious food whilst benefiting from nutritious, natural ingredients, your energy levels will soar, and you'll feel full of vitality and well-being.
The Best Gluten-Free, Wheat-Free & Dairy Free Recipes by Grace Cheetham
176 pages • Illustrated • £12.99

https://nourishbooks.com/wp-content/uploads/2014/05/guide-to-gluten-free-wheat-free-and-dairy-free-food1.jpg
300
340
Victoria Lagodinsky
https://nourishbooks.com/wp-content/uploads/2018/04/NourishLogo340x156-300x138-300x138.png
Victoria Lagodinsky
2014-05-04 00:00:18
2014-05-02 16:32:14
A Quick Guide to Gluten-free, Wheat-free and Dairy-free Diets