Nourish books are full of recipes ideas, some of them require a dedicated time, some others are quick to make during a working day evening, and if you can combine them with the company of a good friend, then it is even better. After pondering awhile over Jo Pratt's In the Mood for Healthy Food, our Associate Publicist Jillian and her friend decided to go for the Lemon and Garlic Griddled Chicken with Green Mash recipe. They definitely had a lot of fun and enjoyed the making of this delicious recipe with a glass (or two) of red wine.
Jo Pratt's In the Mood for Healthy Food is chock-full of gorgeous recipes, so picking one for dinner was both easy and difficult. Easy because you can't really go wrong, and difficult because it took ages to settle on one thing!
We finally decided on Lemon and Garlic Griddled Chicken and Green Mash, due to its short list of ingredients and simple preparation, as well as the tantalising promise of hot creamy mash on the very gloomy first night of February.
As the chicken has to marinate for at least half an hour we set about doing that right away, and it took only a few moments to zest and juice the lemon, grate in some garlic, and sprinkle in seasoning. With that poured over the chicken and popped into the fridge, we had the time to sit down with a glass of wine before needing to start on the mash.
After a glass (or two), we chopped the leek and courgette, and got those simmering away. Mixed with the scent of garlicky lemon already floating around, the kitchen started smelling wonderful.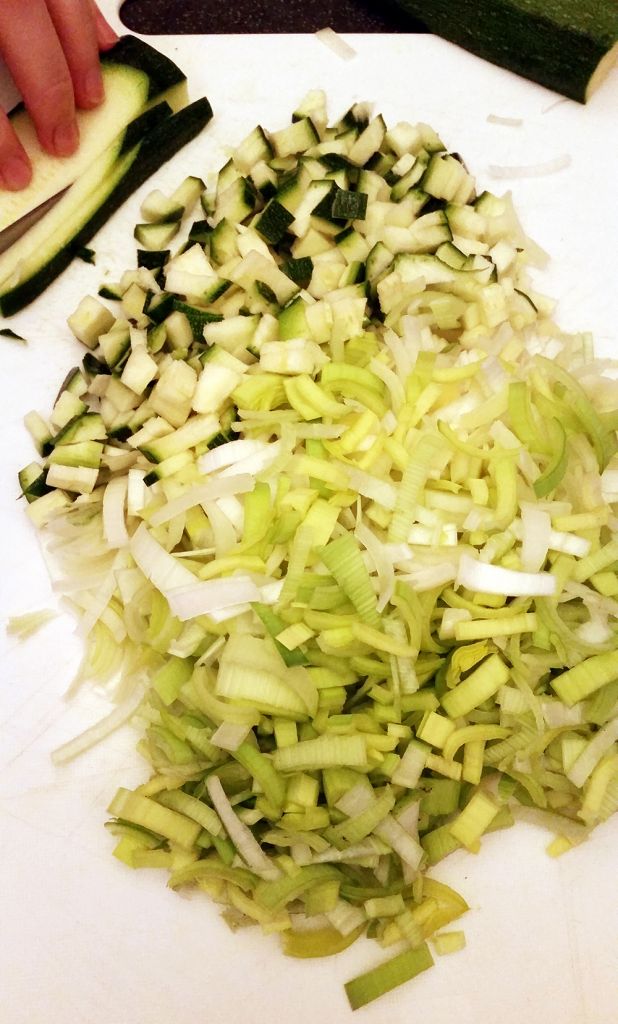 Next went in a can of cannellini, some chicken stock, and frozen peas, and as they all cozied up together in the pot we chopped some basil and grated the parmesan, getting everything ready at the same time.
Half an hour passed quickly, and the chicken came out of the fridge and into the pan. As soon as the lemon-garlic marinade hit the heat there was a delicious sizzling sound and smell. A few minutes on either side and the chicken was done at the same time as the mash.
In went the fragrant basil and the sharp cheese, and it was time to eat.
The chicken was deliciously flavourful, and the mash was creamy and moreish. Knowing that it was comprised of beans and veggies made us have no qualms about having multiple helpings.
This meal is easy to prepare, quick to make, and everything comes together simultaneously, giving you a warm, nutritious, and totally delicious meal. We were too full for dessert, but were tempted by the Blackberry and Honey soufflés! There's always next time…
Serves: 4
Preparation time: 20 minutes, plus at least 30 minutes marinating
Cooking time: 15 minutes
Ingredients:
4 skinless, boneless chicken breast fillets
juice and zest of 1 large lemon
4 garlic cloves, crushed
2 tbsp olive oil
sea salt and freshly
ground black pepper
For the mash:
1 tbsp olive oil
1 large leek, finely diced
2 courgettes/zucchini, finely diced
800g/1lb 12oz canned cannellini beans, drained
150g/5.oz/1 cup frozen peas, defrosted
125ml/4fl oz/. cup hot chicken stock
1 bunch of basil, leaves and stalks finely chopped
50g/1.oz/. cup finely grated Parmesan cheese
2 tbsp extra virgin olive
oil
Get in touch! If you want to review one of our recipes, you can write to nourishbooks.community@gmail.com.
Jo Pratt
In the Mood for Healthy Food
£ 20.00, available from Nourish Books
Sign up for our newsletter to get our new articles straight to your inbox every month.