Blackened Sea Bream or masgouf, as Iraq's national dish is known, is much revered as a food for the mind as well as the body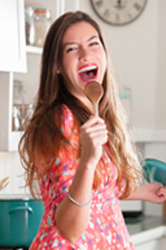 "The infamous masgouf, as Iraq's national dish is known, is a much-revered dish for Iraqis, reserved for special occasions. Considered to be food for the mind as well as the body, this Baghdad speciality sprang up along the banks of the Tigris, where the day's catch would be served to Arak-sozzled patrons in cafés", explains Bethany Kehdy author of The Jewelled Kitchen. "It's traditionally prepared with freshwater fish, similar to carp, butterflied and hung on skewers over brushwood fires. Mango chutney was introduced via Indian traders, and Iraqis made it their own with the inclusion of spices such as fenugreek."
Blackened Sea Bream Recipe
Serves 4
Preparation Time: 10 minutes, plus time for marinating
Cooking time: 45 minutes
4 whole sea bream, pollock or haddock, about 1.25kg/2lb 12oz in total, cleaned and gutted, then butterflied (head and tail intact)
2 tbsp smoked sea salt flakes
1 tbsp tamarind paste or lemon juice
3 tbsp olive oil
1 tbsp ground dried lime (optional)
chopped coriander leaves, to sprinkle
sea salt and freshly ground black pepper
Green Mango Chutney
2 green mangoes, sliced into 1cm/½in cubes
3cm/1¼in piece of root ginger, peeled and finely chopped or grated
½ garlic clove, finely chopped or crushed
½ tsp turmeric
¼ tsp ground fenugreek
small pinch of crushed chilli flakes
4 tbsp cider vinegar
2 tbsp clear honey
a small pinch of sea salt
1. Put all the fish in a grill pan and season the interiors and exteriors generously with the smoked salt.
2. Put the tamarind paste in a mixing bowl, add 3 tablespoons water and mix well. Add the olive oil and dried lime, if using, and whisk well. Season to taste with black pepper. Baste each of the fish liberally all over with the tamarind marinade. Cover and set aside for 30 minutes.
3. Meanwhile, prepare the mango chutney. Put the mangoes, ginger, garlic, turmeric, fenugreek, chilli flakes, cider vinegar, honey, salt and 350ml/12fl oz/1½ cups water in a heavy-based saucepan over a medium heat. Cover and bring to the boil, then reduce the heat to low and simmer for 20–25 minutes until the mango is soft and most of the liquid has evaporated. The chutney should be slightly runny.
4. Depending on your choice, preheat a grill to high, preheat a charcoal barbecue until the charcoal is burning white or turn on a gas barbecue. Secure the fish by flattening them between the wire racks of large fish-grilling baskets, 2 fish per basket, then cook for 7 minutes on each side or until charred, crispy and flaky. Alternatively, preheat the oven to 180°C/350°F/Gas 4 and bake the fish on wire racks placed above baking trays for 10–15 minutes, depending on the size of the fish (the general rule is 7 minutes cooking time per 2.5cm/1in measured at the thickest part of the fish).
5. If using fillets, then heat a shallow, nonstick frying pan over a medium heat and sear the fish for 5 minutes on each side, carefully turning them.
6. Sprinkle coriander over the fish and serve with Chelow Rice, along with some of the green mango chutney and some Burnt Tomato and Chilli Jam, if you like.
Bethany Kehdy is a pioneer of today's new Middle Eastern cuisine.The Jewelled Kitchen takes you on an unforgettable adventure of Middle Eastern and North African cuisines. From Tuna Tartare with Chermoula and Sumac-Scented Chicken Parcels, to Cardamom-Scented Profiteroles and Ma'amoul Shortbread Cookies – mouth-watering dishes for you to try. Find Bethany at her inspiring food blog dirtykitchesecrets.com.
    "Original and delicious" –  Yotam Ottolenghi
     The Jewelled Kitchen by Bethany Kehdy
      224 pages • Illustrated • £20.00
      AUS $32.99 NZ $42.00
      £20.00 l Buy the book now!