Description
'I've been dipping into The Jewelled Kitchen by Bethany Kehdy, a gorgeous looking and gem-filled recipe book from a new champion of Middle Eastern food'  – Yotam Ottolenghi 
'Bethany Kehdy's distinctive modern take on Middle Eastern classics is an absolute joy!' – Greg Malouf
"In the Middle East, cooking is a truly intuitive art form …There is a saying that if you run with your senses, especially your sense of smell, that you will find inspiration. It is never about exact measurements, and always about instinct." – Bethany Kehdy
The Jewelled Kitchen takes you on an unforgettable adventure of Middle Eastern and North African cuisines. We are all familiar with a few mezze favourites  – hummus, falafel, tabbouleh and stuffed vine leaves  –  but Bethany offers up a whole host of other treasures. From Tuna Tartare with Chermoula and Sumac-Scented Chicken Parcels, to Cardamom-Scented Profiteroles and Ma'amoul Shortbread Cookies, The Jewelled Kitchen is full of mouth-watering dishes for you to try. Bethany's recipes stem from her childhood, as she mixes traditional country fare with cosmopolitan feasts, and adds contemporary twists. In this book she unveils a culinary heritage that is as rich as it is diverse.
Create the stunning salad on the cover of The Jewelled Kitchen with this Moroccan Citrus Salad Recipe.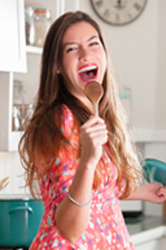 Bethany Kehdy is a pioneer of today's new Middle Eastern cuisine. Currently taking the internet by storm with her notable food blog, dirtykitchensecrets.com, she also has a devoted following on Twitter and Facebook. Bethany works as a recipe developer, food and travel writer, and she leads culinary tours across Lebanon and organizes Food Blogger Connect.