Are you lacking a bit of spice in your life? Add an abundance of flavour by integrating these well-known spices into your diet and reap the benefit of their glorious healing properties.
Spices are much more than wonderful taste supplements. They also provide concentrated, powerful medicines that can enhance health and vitality, treasures that ancient cultures knew well and that modern society is now rediscovering through science and research.
GARLIC
Garlic has a proven reputation as an antibiotic active against bacteria, fungi and other infectious micro-organisms including staphylococci, streptococci, E. coli, trichomonas, candida and amoebic dysentery. It is a traditional remedy
for treating colds, flu, bronchitis and asthma.
A growing body of scientific research confirms garlic's reputation for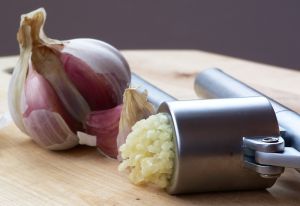 benefiting the cardiovascular system by lowering cholesterol, reducing blood clots (by preventing platelet aggregation), reducing atherosclerosis and lowering blood pressure. Recently, it has been shown that garlic can help to lower blood glucose and thus reduce the risk of diabetes, and there is some evidence that eating garlic regularly may help prevent the development of an enlarged prostate in older men.
Did you know…?
Eating fresh parsley with garlic helps to avoid bad garlic breath.
GINGER
For centuries, ginger has been taken to ease rheumatic complaints, and modern evidence confirms that it has an
anti-inflammatory effect and may also lower blood pressure. It can aid slimming if taken as a hot drink with food because, as well as giving a sense of fullness, it enhances the thermic effect of food, reducing feelings of hunger. Widely used as a digestive aid, ginger can also be effective for motion sickness and nausea. It makes a warming drink and is thought to improve circulation.
Did you know…?
Ginger is highly effective in treating morning sickness, but high doses should be avoided.
NUTMEG
In the Middle Ages, nutmeg was highly prized and believed to have magical powers. People even carried nutmeg
around with them in a small locket on a chain. It was said to comfort the head and the nerves, and was known to calm the digestion while stimulating the circulation.
Modern research has shown nutmeg to be among the stronges
t antioxidants and an effective antibacterial and anti-inflammatory plant medicine able to increase calmness while reducing feelings of anger and embarrassment. It has also been found to inhibit blood clotting and to decrease prostaglandin levels in the colon, making it useful in the management of Crohn's disease. Extracts of nutmeg inhibit leukaemia cell development, and compounds within it have been found to inhibit the breakdown of elastin in the skin and thus keep the skin more supple. Nutmeg also seems to help protect the skin from overexposure to harmful UV sun-rays.
However, nutmeg does have a reputation as an intoxicant that can cause hallucinations and euphoria, together with palpitations, nausea, headache, dizziness, dry mouth and delirium, but the psychoactive effect is only seen in large doses and varies markedly from person to person.
Did you know…?
To relieve joint pain, try an ointment made by mixing freshly grated nutmeg, ginger, ground cloves and citronella oil with ground, uncooked rice. Apply to the affected joint and leave to soak into the skin.
STAR ANISE
The shikimic acid contained in star anise seeds is a strong antiviral agent and a primary ingredient in the synthesis of antiviral drugs such as Tamiflu. Recent bird flu and swine flu epidemics caused the price of star anise to soar as drug companies bought up vast quantities in order to meet the surge in worldwide demand for antiviral drugs.
Star anise is a warming, stimulating herb used in traditional Chinese medicine to relieve cold stagnation, to balance the flow of Qi and to relieve pain. It is a traditional remedy for arthritis and digestive complaints, and has potent antimicrobial properties due, in part, to the presence of anethole, which is effective against bacteria, fungus and some yeasts. Its immune-stimulating, antimicrobial and antioxidant properties, together with a gentle painkilling and sedative effect, make star anise a perfect remedy to give young children to relieve colic, and also to treat respiratory problems such as bronchitis, cough and asthma. It is also a useful insect repellent.
Did you know…?
Sprinkling ground star anise on root vegetables before baking, or adding a whole star anise to sweet potato, pumpkin or leek dishes enhances their flavour.
Exacts taken from Healing Spices by Kirsten Hartvig
£12.99 | Available from Nourish Books
Sign up for our newsletter to get our new articles straight to your inbox every month