From Adele McConnell's The Vegan Cookbook.
For a fantastic twist on a lunch wrap, try these gorgeous little tortilla cups, filled with delicious roasted sweet potato and a zesty fresh pesto. They are completely vegan, but whether you follow a plant-based diet or not, we guarantee you'll love them as much as we do.
Sweet Potato Cups with Hummus & Walnut Pesto
Serves: 3–6
Preparation time: 30 minutes, plus cooling
Cooking time: 1 hour

250g/9oz sweet potato, cut into small dice
1 tbsp olive oil or coconut oil, plus extra for greasing
½ courgette, cut into small dice
3 flour tortillas
1 large handful of basil leaves
1 small handful of parsley leaves
100g/3½oz baby spinach leaves
30g/1oz/¼ cup walnuts
60ml/2fl oz/¼ cup good-quality extra virgin olive oil
1 garlic clove, crushed
a squeeze of lemon juice, or to taste
sea salt and freshly ground black pepper
220g/7¾oz/1 cup hummus, to serve

1. Preheat the oven to 200°C/400°F/Gas 6. Put the sweet potato in a bowl and add the oil. Mix well to coat thoroughly and tip on to a baking tray. Roast for 30 minutes, then add the courgette to the tray. Roast for a further 15 minutes, or until tender.
2. While the vegetables are cooking, cut each tortilla into quarters and, using a small amount of oil, grease six muffin cups. Press 1 piece of tortilla inside a muffin cup and smooth into the edges to line the cup, then add a second piece at an angle and smooth in the same way. Leave the edges overhanging, to create a tortilla 'cup'. Leave to one side.
3. Put the basil into a blender or food processor and add the parsley and spinach leaves, then process until they are well combined. Add the walnuts, olive oil, garlic and lemon juice. Season with salt and pepper, and blend into a smooth paste to make a pesto.
4. When the sweet potato is cooked, leave the baking tray on one side to cool. When the vegetables are cool, tip them into a large mixing bowl, and combine with 2 tablespoons of walnut pesto. Spoon the sweet potato and courgette mixture into each tortilla cup and bake for 15 minutes, or until the tortillas are golden brown. Top with a large spoonful of hummus and serve with the remaining pesto. The pesto can be stored in a sterilized jar in the fridge for up to 1 week or frozen for up to 1 month.

Adele McConnell is the founder of the hugely successful vegan food blog, vegiehead.com, and was the winner of the prestigious 'Vegan Food Blogger Award' by The Vegan Woman 2012. She loves sharing her passion for vegan food. Watch her inspiring, easy-to-follow cookery demonstrations on her YouTube channel.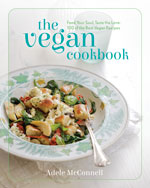 "Feed your soul, taste the love: 100 of the best vegan recipes"
The Vegan Cookbook by Adele McConnell