From Adele McConnell's The Vegan Cookbook.
To celebrate World Vegan Month, each Monday we will be sharing a brilliant vegan recipe to add to your repertoire. For this first week it's all about happy beginnings, so get your day off to a good start with this delicious vegan brunch. You can make the relish beforehand and keep it in the fridge for up to 4 weeks. The versatile hash mixture can also be made into burgers or a rosti – simply soak 1 tablespoon chia seeds in 3 tablespoons water for 10 minutes, then stir into the cooked hash. Form into burger shapes and fry in a little oil for 5 minutes.
Sweet Potato Hash with Tomato Relish
Serves: 2 (with relish leftover)
Preparation time: 25 minutes
Cooking time: 1 hour 10 minutes

1 tbsp olive oil or coconut oil
250g/9oz sweet potato, grated
1 large onion, chopped
60g/2¼oz kale, thinly sliced
1 tbsp lemon juice
chopped parsley leaves and diced avocado, to serve
For the Tomato Relish:
4 medium tomatoes, chopped
1 large onion, chopped
1 red pepper, deseeded and cut into dice
1 tsp cider vinegar
2 tsp brown sugar or coconut sugar
1 tsp crushed chillies
350ml/12fl oz/1½ cups vegetable stock
sea salt and freshly ground black pepper

1. To make the relish, put all the ingredients in a large, heavy-based saucepan. Bring to a gentle boil over a medium heat, then reduce the heat to a low simmer and cook for 45 minutes, stirring frequently, or until the pepper is soft and the liquid has reduced. Adjust the seasoning to taste.
2. When the relish has thickened, remove the pan from the heat and leave to cool. Pour into a sterilized glass jar and store in the fridge for up to 4 weeks.
3. To make the hash, heat the oil in a heavy-based frying pan over a medium heat and add the sweet potato and onion. Season with salt and pepper. Cook for 10 minutes, stirring frequently, then add the kale and cook for a further 10 minutes, or until the sweet potato is crispy and the onion is soft. Drizzle over the lemon juice and sprinkle with parsley. Serve with diced avocado, and top with a large spoonful of tomato relish.

Adele McConnell is the founder of the hugely successful vegan food blog, vegiehead.com, and was the winner of the prestigious 'Vegan Food Blogger Award' by The Vegan Woman 2012. She loves sharing her passion for vegan food. Watch her inspiring, easy-to-follow cookery demonstrations on her YouTube channel.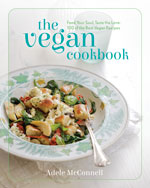 "Feed your soul, taste the love: 100 of the best vegan recipes"
The Vegan Cookbook by Adele McConnell