How to Make Delicious Vegetarian Nut Cheese
Soaked and blended cashews make a remarkably creamy soft 'cheese'. Garlic and lemon, herbs and nuts are just a few of the many flavourings you can use.

Vegetarian Nut Cheese Recipe
Serves: 4
300g/10½oz/2 cups cashew nuts
½ tsp salt
1 garlic clove, crushed
1 tbsp lemon juice
a large pinch of smoked paprika
5 tbsp chopped mixed herbs, such as thyme, oregano and chives
5 tbsp shelled pistachios, finely chopped
freshly ground black pepper
crispbreads or vegetable crudités, to serve

1 Put the cashews in a bowl, cover with warm water and leave to soak for at least 2 hours, then drain and transfer the cashews to a food processor or blender. Add 185ml/6fl oz/3/4 cup water and blend into a coarse paste. For a softer 'cheese', add a little more water and blend into a coarse purée. Add the salt and season with pepper.
2 Divide the nut cheese into 3 equal portions. Stir the garlic, lemon juice and paprika into 1 portion and spoon it into a ramekin. Put the chopped pistachios on a plate. Using your hands, divide another portion of the nut cheese into teaspoon-sized balls, then roll each ball in the pistachios until evenly coated. Roll the last portion of the nut cheese into a log and roll it in the herbs to coat. Serve the flavoured nut cheeses with crispbreads.

Find more of the best in modern vegetarian cooking in New Vegetarian Kitchen from award-winning author Nicola Graimes. For Nicola it's all about celebrating flavours, textures, aromas and colours – and the magical transformation from the raw ingredients to the finished dishes. It's a feast of inspiration – turn the pages and find a treasure trove of delicious meat-free meals.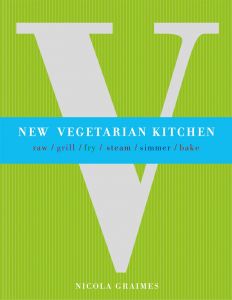 New Vegetarian Kitchen by Nicola Graimes
240 pages • Illustrated • £14.99
AUS $29.99
https://nourishbooks.com/wp-content/uploads/2014/03/vegetarian-cheese.jpg
300
344
Victoria Lagodinsky
https://nourishbooks.com/wp-content/uploads/2018/04/NourishLogo340x156-300x138-300x138.png
Victoria Lagodinsky
2014-03-16 00:00:06
2014-03-11 16:19:30
How to Make Delicious Vegetarian Nut Cheese