Asparagus and ginger make for a delicious filling for these typical Chinese potstickers. You can adapt this recipe according to your own preferences, adding pork instead of asparagus. Nicola Graimes' non-vegetarian version also for you below to try.
'Potsticker' is another name for a Chinese dumpling and this tempting version makes a great precursor to a vegetable stir-fry or can be served as part of dim sum. The great name derives from the way the dumplings are cooked. First they are fried to give a crisp, golden base – take care as they can stick to the pan, hence the name – followed by steaming in a little water or broth.
Serves: 4
Preparation time: 30 minutes
Cooking time: 6 minutes
Ingredients:
20 round wonton wrappers (for frying), defrosted if frozen
plain/all-purpose flour, for dusting
1 tbsp sunflower oil, plus extra if needed
1 tbsp finely snipped chives, for sprinkling
Asparagus and ginger filling:
235g/8½oz bunch asparagus, stalks trimmed and very thinly sliced, tips halved lengthways
1 spring onion/scallion, finely chopped
2.5cm/1in piece of fresh root ginger, coarsely grated (no need to peel)
140g/5oz tofu, drained well on paper towels and coarsely grated
1 tbsp light soy sauce
1 tsp sesame oil
sea salt and freshly ground black pepper
Soy and ginger dipping sauce:
3 tbsp light soy sauce
2 tbsp Chinese black vinegar or balsamic vinegar
1 tbsp sesame oil
½cm/¼in piece of fresh root ginger, peeled and finely diced
1 red chilli, deseeded and thinly sliced
Method:
Mix together the ingredients for the dipping sauce, adding just half of the chilli, then leave to one side.
Reserve the asparagus tips, then mix together the remaining ingredients for the filling in a large bowl and season with a little salt and pepper.
Place 2 teaspoons of the filling mixture in the centre of a wonton wrapper. Moisten the edge of the wrapper with a little water, fold in half and pleat the edge to seal to make a half moon-shaped dumpling with a flat bottom and rounded top. Place the dumpling on a floured board, cover with a damp dish towel and repeat to make 20 dumplings in total.
Heat the oil in a large lidded frying pan. Arrange half the dumplings in the pan, flat-side down, and cook for 2 minutes until the base of each dumpling is golden and slightly crisp. Remove from the pan, leave to one side and repeat with the second batch of dumplings, adding more oil, if needed.
Return the dumplings to the pan if they fit in an even layer.
Add 4 tablespoons water to the pan and scatter over the asparagus tips, immediately cover the pan with a lid and steam  for 2 minutes until the liquid is absorbed.
Serve the dumplings scattered with the asparagus tips, chives and reserved chilli with the dipping sauce in a small bowl by the side.
PART-TIME VARIATION: Pork and ginger potstickers

To make the potsticker filling, mix together 150g/5½oz minced/ground pork, 1 finely chopped Chinese cabbage leaf, 2.5cm/1in piece of fresh root ginger, grated, 1 finely chopped spring onion/scallion, 1 tbsp light soy sauce and 1 tsp sesame oil in a bowl.
Make and cook the dumplings as described above, adding 6 tablespoons water to the pan.
Cover with a lid and cook for 6 minutes.
Serve scattered with chives and chilli with the dipping sauce.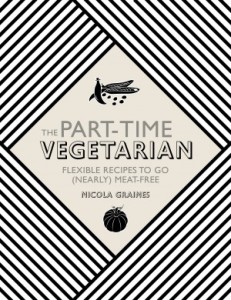 Nicola Graimes
The Part-Time Vegetarian
Available from Nourish Books
£20,00
Sign up for our newsletter to get our new articles straight to your inbox every month.