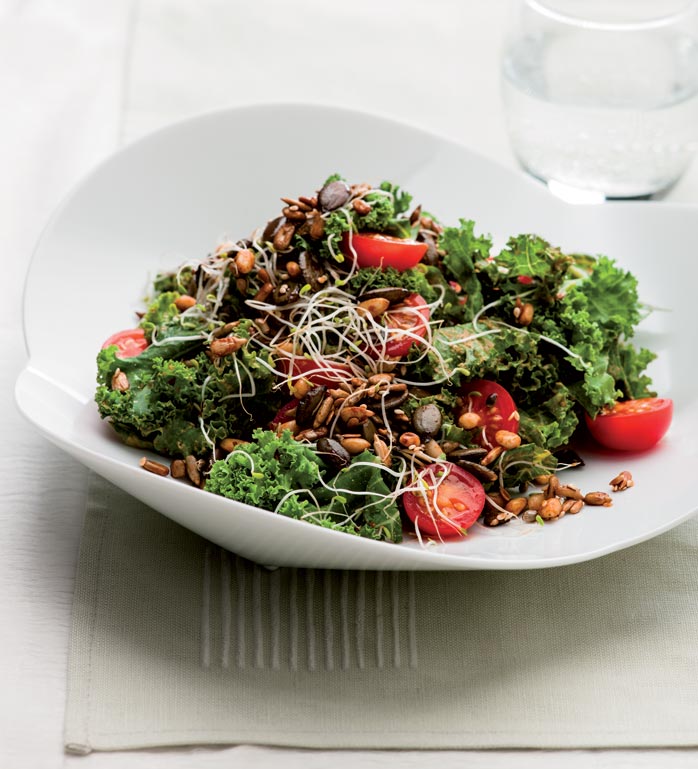 As part of Bowel Cancer Awareness month, we're giving you recipes to help fight cancer from Nourish: The Cancer Care Cookbook, written in partnership with Penny Brohn Cancer Care.
This simple, cleansing salad from Christine Bailey is quick to prepare and ideal for a very light lunch to accompany hard-boiled eggs or some feta cheese. The toasted seeds and nuts can also be eaten as a tasty and wholesome snack, so it's worth making up a batch and keeping it in an airtight container ready to eat with a fruit juice or smoothie.
Health Benefits of Kale
Kale is a cruciferous super-food rich in glucosinolates, which can play a primary role in protection against many forms of cancer. It is also packed with flavonoids: antioxidants that help lower inflammation and protect against cell damage. (People with thyroid problems should limit their intake of raw cruciferous vegetables, because they can lower the function of the thyroid and reduce metabolism.)

Cancer Fighting Recipes: Wilted Kale Salad with Toasted Seeds
Serves: 4
Preparation time: 10 minutes
Cooking time: 3 minutes

250g/9oz kale, large stems discarded, leaves roughly chopped
1 tsp garlic salt
1 tbsp nutritional yeast flakes (optional)
1 ripe avocado, pitted and peeled
3 tbsp lemon juice
1/2 tsp ground cumin
1 tbsp olive oil or flaxseed oil
2 tsp tamari
200g/7oz cherry tomatoes, cut in half
1 handful of alfalfa sprouts
Toasted seeds and nuts
2 tbsp pine nuts
6 tbsp mixed seeds, such as sunflower seeds, pumpkin seeds and hemp seeds
2 tbsp tamari

1 To make the toasted seeds and nuts, put them in a dry frying pan over medium heat and lightly toast for 1 minute, stirring. As they begin to colour, pour over the tamari and stir to combine. Stir for 1–2 minutes until crisp. Leave to cool.
2 Put the kale into a large bowl and sprinkle over the garlic salt and yeast flakes, if using. Massage with your hands to allow the kale to soften. Put the avocado, lemon juice, cumin, oil and tamari into a blender or food processor and process until smooth. Mix into the kale so that it is thoroughly coated. Stir in the tomatoes and sprinkle over the alfalfa sprouts and toasted seeds and nuts, then serve.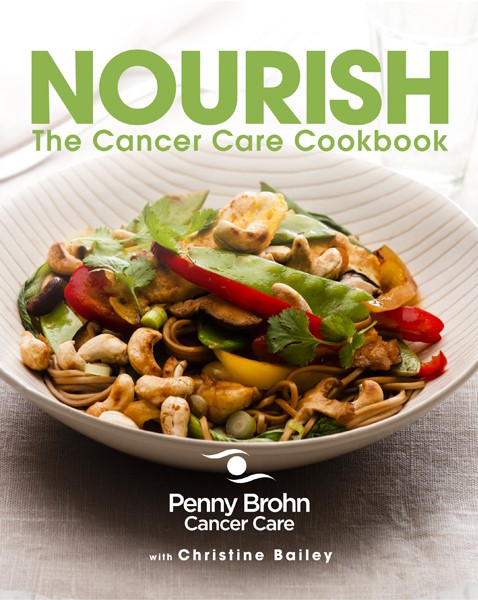 Nourish: The Cancer Care Cookbook embraces the holistic healthy living approach of Penny Brohn Cancer Care, combining nutritional advice with 7-day menu plans and healthy recipes design to help you, or someone you know, live with cancer.