Description
'This book is a must for all who want to learn the art of great cooking' – James Martin
'French food has undergone a transformation – in this book Daniel shows you how to master contemporary French recipes in your own home' – Heston Blumenthal
Daniel Galmiche's first book, French Brasserie Cookbook, was hailed as a masterpiece of French home cooking. His eminently do-able versions of traditional recipes have won him thousands of fans throughout the world. Now he turns his experienced eye to something different: his own irresistible take on the new wave of modern French cooking.
Revolutionary French Cooking is divided into three chapters. The first, Liberte, showcases exciting new recipes, methods and techniques, with innovative ingredients – such as Pineapple Tarte Tatin with Chilli and Lemongrass – all refreshingly free from the shackles of tradition.
The second chapter, Egalite, brings democracy to your cooking by elevating such humble fare as celeriac, pork belly and rabbit into the food of kings – for example, Rabbit Terrine with Onions and Parsley.
The final chapter, Fraternite, celebrates recognized "brotherhoods", or pairings, of ingredients and turns convention on its head with modern adaptations, such as Monkfish Wrapped in Pancetta with Carrot and Mandarin Puree.
Throughout the book Daniel reveals how to make modern dishes with vibrant flavours, textures and aromas. In each chapter there are instructive features on the techniques used, such as water baths, showing you how to master them easily in your own home. This is a must-have book for lovers of hearty, beautiful food and the taste of France.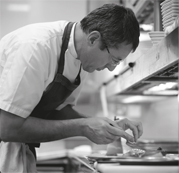 Daniel Galmiche is the charismatic head chef of The Vineyard at Stockcross, Berkshire, who has gained or retained prestigious Michelin stars at four of Britain's top restaurants. He trained under the tutelage of Michel Roux and regularly appears on UK TV, including Saturday Kitchen, Home Cooking with Rachel Allen and Market Kitchen. Daniel has gained a following throughout the world and won the Relais & Chateaux Rising Chef Trophy in 2011.