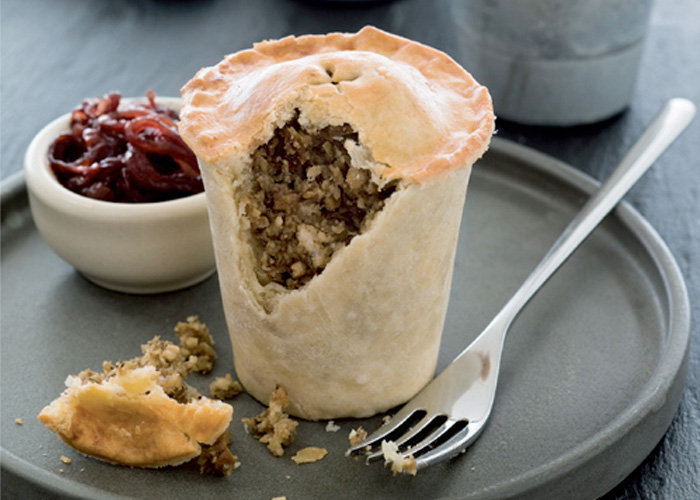 Delicious individual vegetarian pies – a perfect winter meal!
When the wind is howling and the rain is pouring down there's nothing better than a tasty home cooked pie – and there's something extra special about an individual pie. They make a tasty vegetarian supper or Sunday lunch served with red onion chutney and a red wine gravy.
Mushroom and Cashew Pie Recipe
Serves 4
20g/¾oz dried porcini mushrooms
2 tbsp olive oil
2 onions, finely chopped
3 garlic cloves, finely chopped
250g/9oz chestnut mushrooms, coarsely chopped
2 tsp dried thyme
3 tbsp sherry
1 tbsp dark soy sauce
125g/4½oz/heaped 1 cup broken cashew nuts
80g/2¾oz/scant 1 cup fresh breadcrumbs
50g/1¾oz/scant ½ cup ground almonds
egg, for glazing
salt and freshly ground black pepper
Pastry
225g/8oz/1¾ cups plain flour
½ tsp salt
60g/2¼oz cold butter, diced, plus extra for greasing
1 egg yolk

1 First make the pastry. Sift the flour and salt into a bowl. Rub in the butter with your fingertips until the mixture resembles fine breadcrumbs. Add the egg yolk and a little cold water, if necessary, and mix to combine; press the dough together to make a smooth ball, wrap in cling film and chill for 30 minutes.
2 Meanwhile, put the porcini mushrooms in a small bowl and just cover with boiling water; leave to soak for 20 minutes. Strain them, reserving 3 tablespoons of the soaking liquid, then roughly chop.
3 Heat the olive oil over a low heat and fry the onions, stirring occasionally, for 15-20 minutes, partially covered, until golden and very soft. Add the garlic, porcini and chestnut mushrooms and thyme and fry uncovered, for 5 minutes, stirring occasionally. Add the sherry, soy sauce and reserved mushroom liquid and simmer for 2 minutes or until the liquid has reduced by half.
4 Finely grind the cashews in a food processor and transfer to a large mixing bowl. Stir in the breadcrumbs and almonds. Put the mushroom mixture in the food processor and process to a smooth paste, then add to the cashews. Season with salt and pepper and stir until well combined and the mixture has the consistency of a firm pâté.
5 Grease four 150ml/5fl oz/scant cup dariole moulds. Roll out the pastry on a lightly floured work surface and cut out 4 circles to line the moulds, gathering up the trimmings. Put 1 circle in each mould and press it from the bottom upwards to get rid of any air bubbles and shape it into a pastry case. Leave 2cm/¾in of the pastry overhanging the top of the mould.
6 Preheat the oven to 200°C/400°F/gas 6. Fill the pastry cases nearly to the top with the mushroom mixture. Re-roll the pastry trimmings and cut out 4 circles to fit as lids on top of the moulds. Wet the edge of each pastry case with water and press the lid on the top, pinching with your fingers to seal. Trim any excess pastry.
7 Brush the tops with egg, put the pies on a baking sheet and bake for 35–40 minutes until golden. Leave to rest for 2–3 minutes before loosening the pies with a knife and carefully turning them out. Serve hot with chutney.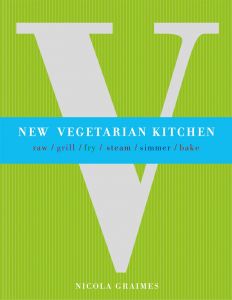 New Vegetarian Kitchen by Nicola Graimes
240 pages • Illustrated • £14.99
AUS $29.99