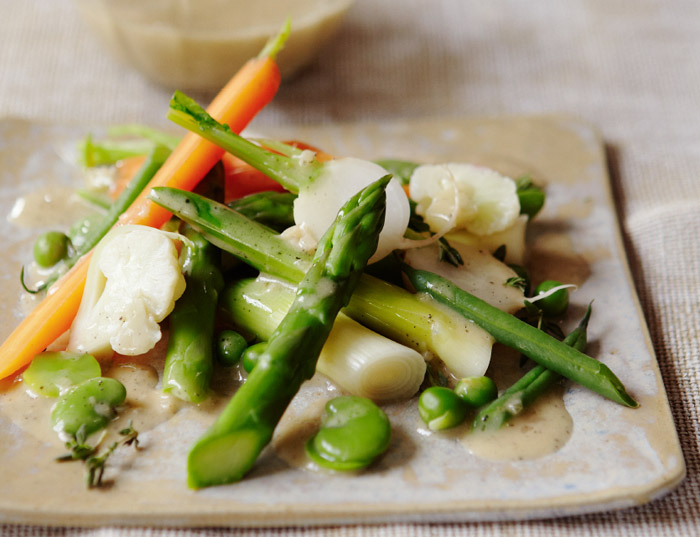 Daniel Galmiche, Michelin-starred chef and author of Revolutionary French Cooking shows you how to make this summer vegetable ragout, served with a stylish vanilla beurre blanc – a colourful, light and fresh summer dish that's perfect for family gatherings. The vegetables only need a minimal amount of cooking before they are coated in a light butter sauce, scented with fresh vanilla seeds and thyme. One small point – don't over do the vanilla or you will disturb the delicately balanced flavour of the dish. It's delicious served on its own or with roasted meats.

Ragoût of Summer Vegetables with Vanilla Beurre Blanc
Serves: 4
Preparation Time: 20 minutes, plus making the stock
Cooking time: 40 minutes

100g/3½oz podded broad beans, grey outer casing removed
200g/7oz peas, podded
100g/3½oz green beans, halved
100g/3½oz baby carrots, scrubbed
100g/3½oz baby leeks, trimmed and each cut into 3 pieces
100g/3½oz baby turnips, peeled and quartered
1 bunch of asparagus tips
1 baby cauliflower, cut into florets
leaves from 1 thyme sprig
sea salt and freshly ground black pepper

For the vanilla beurre blanc:
500ml/17fl oz/2 cups vegetable stock
200g/7oz unsalted butter, softened, cut into cubes
1 shallot, finely chopped
finely grated zest and juice of ½ lime
1 vanilla pod, split in half lengthways and seeds scraped out (you can keep the pod for vanilla sugar)

1. Pour the stock for the vanilla beurre blanc into a small sauté pan and cook over a medium-high heat for 15 minutes until reduced to 150ml/5fl oz/scant ²∕³ cup. Leave to one side.
2. Meanwhile, bring a saucepan of salted water to the boil over a high heat and cook the vegetables, one type at a time, for 2–5 minutes each until just tender. Lift out with a slotted spoon, refresh in iced water, then drain once more, tip carefully into a bowl and leave to one side. Put a lid on the pan of water and reserve for reheating the vegetables just before serving.
3. To make the beurre blanc, melt 20g/¾oz of the butter in a small pan over a medium heat and fry the shallot for 2 minutes until just softened. Stir in the lime juice, then add the reduced stock and the vanilla seeds. Bring to a simmer and cook for 5–8 minutes until there is about 110ml/4fl oz/scant ½ cup of buttery stock.
4. Turn the heat down to very low and gradually whisk in the remaining softened butter, a few cubes at a time. Keep whisking until the butter has been incorporated before adding the next batch. This will stop the sauce splitting by keeping it at a constant temperature. As you are whisking, you should see a foam of tiny bubbles form on top of the mixture and when all the butter has been added, the sauce should be pale in colour and light in consistency, similar to a very thin custard, and should just coat the back of the spoon. This will take 10–12 minutes. At this point, season with salt and pepper to taste and add the lime zest. Cover with a lid and leave to one side in a warm place.
5. Return the saucepan of water to the boil over a high heat and add the vegetables. Cook for a minute or so until heated through, then drain on kitchen paper. Serve the vegetables with the vanilla beurre blanc spooned over the top and sprinkled with the thyme.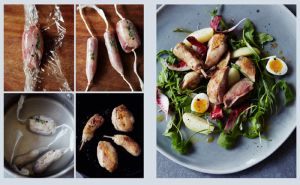 Continue to master contemporary French cuisine with Daniel Galmiche's Sous-vide Masterclass, and show off some cheffy skills to your friends and family!
£19.99
Order now with free UK postage 
https://nourishbooks.com/wp-content/uploads/2014/06/vanilla-beurre-blanc-and-summer-vegetable-ragout.jpg
300
340
Victoria Lagodinsky
https://nourishbooks.com/wp-content/uploads/2018/04/NourishLogo340x156-300x138-300x138.png
Victoria Lagodinsky
2014-06-23 15:30:11
2014-06-23 15:30:11
Ragoût of Summer Vegetables with Vanilla Beurre Blanc